CC-Link|Device|Inverter・Servo systems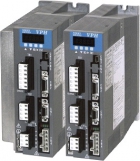 It will bring up the high performance of Direct Drive series at maximum level.

High function servo driver to enhance the maximum performance of servomotor.

The newly developed VPS Series servo driver takes the balance of functionality and performance to a higher dimension.
Introducing a "useful" driver with a built-in function for 7-point positioning.