CC-Link partner product information
CC-Link IE TSN|Peripheral devices|Cables・connectors
Belden Hirschmann Industries(Suzhou)Ltd.
0986 EMC 800 MET (90000003)  - CAT 5e Shielded Field Terminable Plug Straight
BELDEN CAT5e Shielded Field Terminable Plugs are designed to support high performance & harsh environment applications. These plugs are having metallic housing with fully shielded technology and corrosion proof with the gold plated contacts to withstand harsh industrial environment.
Feature
o Metallic Housing with fully shielded technology
o Fast and very easy termination on-site, quickly and without special tools
o UL compliance UL 1863
o ANSI standards ANSI/TIA-568-2.D
o Widely covers Cat5e, Cat6 and Cat6A
o Wire sizes 22AWG -26AWG
o Insulation diameter max. 1.6mm
o CC-Link IE Field & CC-Link IE TSN compliance
Product Specification :
o IDC Wire Gauge : 22 ⁓ 26 AWG
o Conductor Type : Stranded & Solid
o Insulation Diameter : Max. 1.6 mm
o Nominal Diameter : 6.0 ~ 8.0 mm
Materials :
o Plug Housing : Zinc-alloy full shielded
o Contact Blade : Phosphor bronze alloy plated with 50 micro-inch of Gold
o IDC : Phosphor Bronze alloy with 100 micro-inch 100% Sn Alloy
Electrical Characteristics :
o Insulation Resistance : 500 mΩ min. 100 D.C
o Max Contact Resistance : 20 mOhm
o Dielectric withstanding Voltage : 1000V D.C or A.C. Peak
o Contact to Contact : 1500V D.C or A.C. Peak
o Operating Temp Range : -10°C To +60°C
Mechanical Characteristics :
o Termination Front Connection Durability : 750 Cycles
o Re-termination : Max. 20 cycles
o Max Insertion and Withdrawal Force : 20 N
o IP rating : IP 20
Benefits :
o Rugged with metallic housing and fully shielded design for use in harsh environment applications where connection quality is critical
o Reusable up to 20 cycles allowing product to be re-used when checking the industrial build, or when there is a necessary for checking the connection
o Corrosion proof with the gold plated contacts to withstand harsh industrial environment and provides robust connectivity
o Optimized packaging with individual packed in a plastic bag to prevent messing up or losing components in customer production site.
Applications :
o Control cabinets
o Robotics
o Automotive
o Logistics
o Machine Building
o Factory Automation
Standards :
o CC Link IE Field Network Certified : IE Field - NRT-IF-00004
IE TSN - NRT-IT-00007
o UL Rating : UL 1863
o EU Directive 2011/65/EU (ROHS II) : Yes
o Other Specification : ANSI/TIA 568-D.2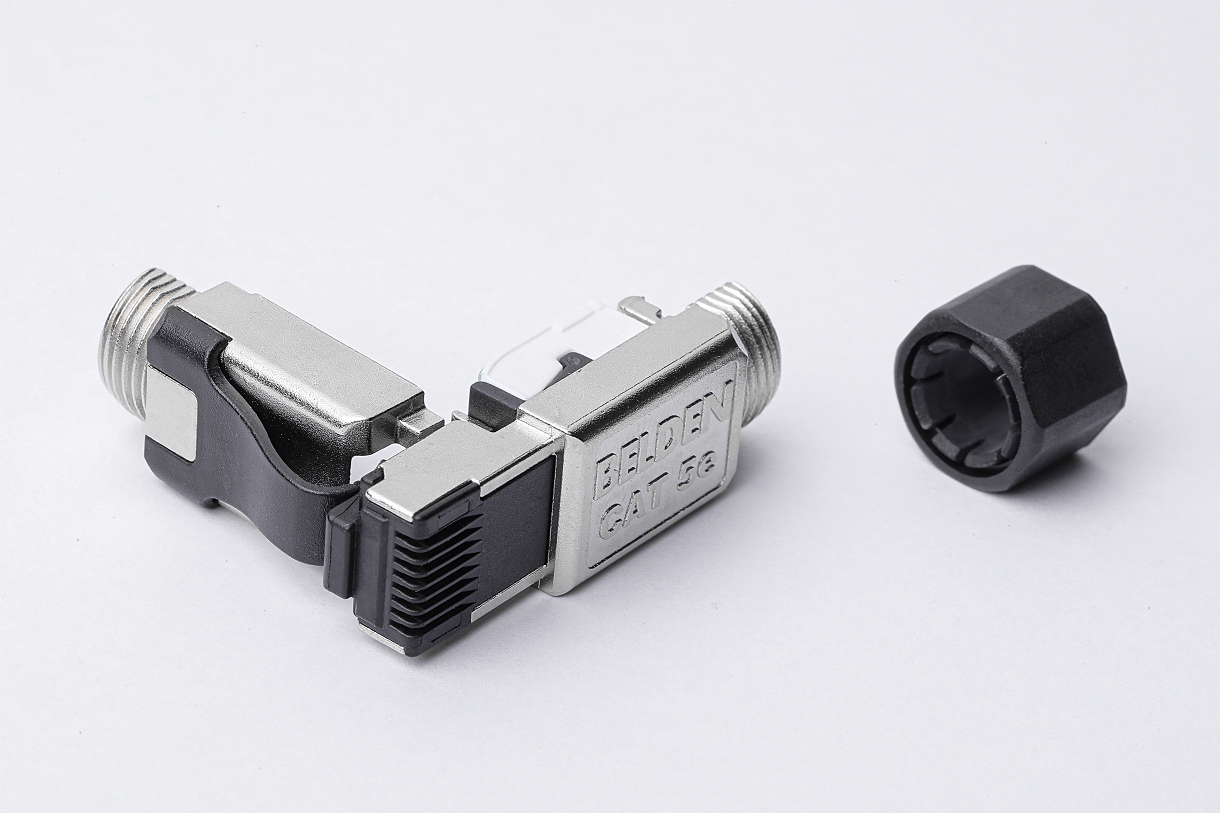 | | |
| --- | --- |
| Communication speed | |
| Maximum transmission distance | |
| Outside diameter/External dimensions | 6.0 ~ 8.0 mm |
| Mass | |
| Standard Price | |
Contact
[Japan]

Company name : 会社名 : ベルデン (日本法人)
Address : 住所 : 〒100-005 東京都千代田区丸の内3-2-2 丸の内二重橋ビル3F
Telephone : 電話番号 : 03-6837-9613
Mail : japan.sales@belden.com, shigehiro.aoki@belden.com
BELDEN Japan
Level3, Marunouchi, Nijibashi Building, 3-2-2
Marunouchi Chiyoda-ku Tokyo 100-0005 Japan
Tel: 03-6837-9613
e-mail : To: japan.sales@belden.com, CC: shigehiro.aoki@belden.com,

[China]

Name: Avishi Kansal
Department: Research and Development 333 Yanhu Avenue, Huaqiao Town, Kunshan City, Suzhou 215332, Jiangsu Province,
Tel: +86-512-5796-1688, Fax: +86-512-5796-1222
Mail: china.marketing@belden.com

[India]

Chakan MIDC Phase II,
Village Bhamboli, Tal: Khed,
District- Pune, Pin: 410507, India
Tel:+91 2135638791 Fax:+91 213563 8790
india.sales@belden.com
URL: http://www.belden.com/

Search for a different product
CC-Link Partner Association (CLPA)
Members Site