CC-Link partner product information
CC-Link IE TSN|Master|PC・others
MOVENSYS Inc.
Soft Motion Controller WMX3
The world's first "CC-Link IE TSN" software master.
Windows PC-based soft motion controller that does not require
any dedicated hardware.
Feature
Without proprietary hardware such as a motion board, it realizes
high-speed, high-precision synchronous multi-axis motion controls
with a single Windows PC.
・Real-time executions of motion contorl algorithms are running
 on a real-time kernel independently and securely from Windows
 on a separate core of PC CPU.
High-end motion control functions
・High-speed synchronous control of maximum 128 axes of servos
 and 60,000 points of I/O
・CC-Link IE TSN Communication cycle:0.125 ms (16 axes) to
 1 ms (128 axes)
Supports general-purpose development environments
for user applications
・Development environments: Visual Studio, C ++ Builder, LabVIEW
・Development programming languages: C / C ++, C #, VB, Python 3.6
 * The motion function library is provided by API.
Supports "Hybrid network"
・Simultaneous communication with CC-Link IE TSN and EtherCAT
 is also possible with two LAN ports from a single PC.
 Servo control is realized by CC-Link IE TSN, and various I/O control is
 realized by EtherCAT simultaneously.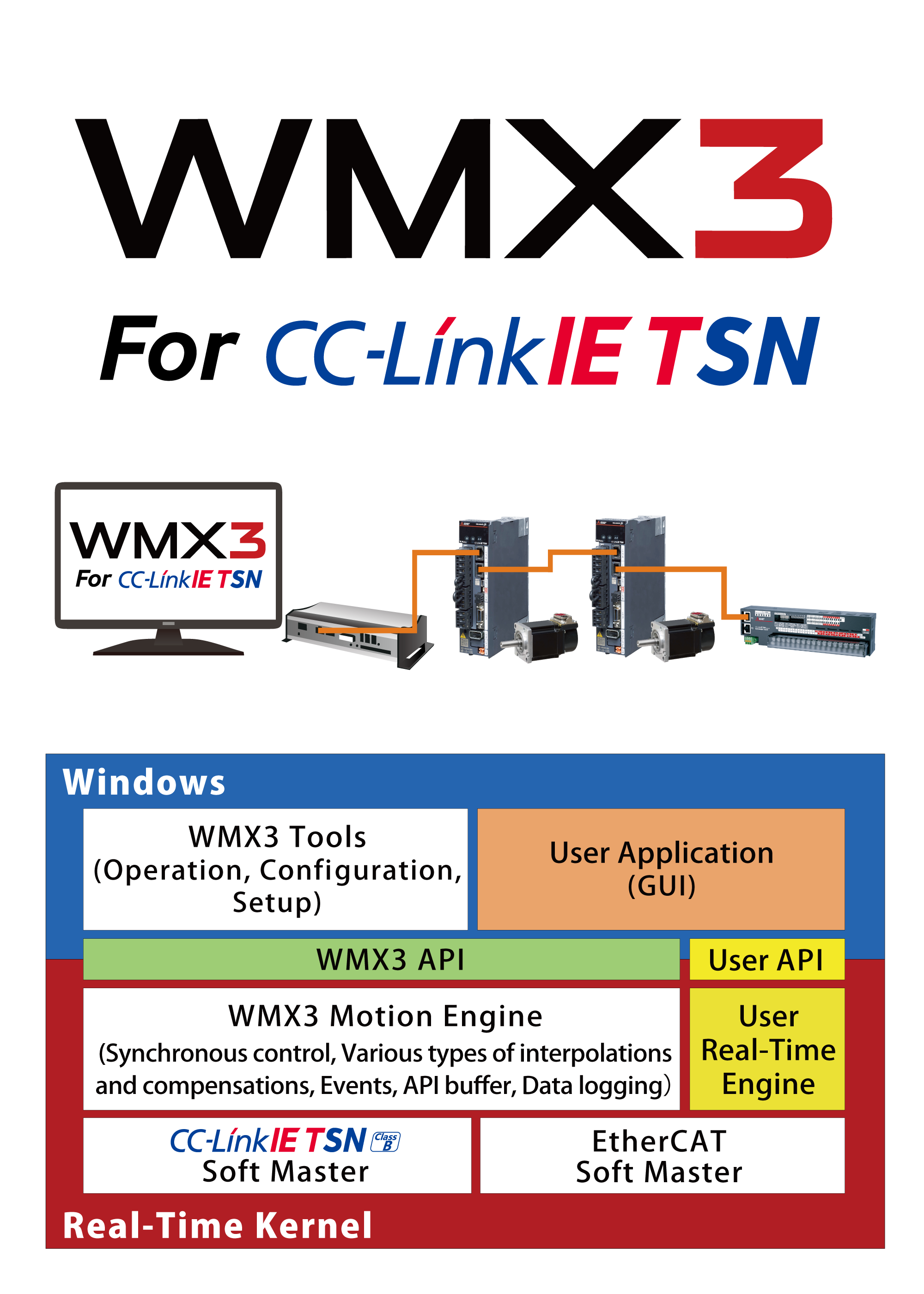 | | |
| --- | --- |
| Station type | Master station |
| Authentication Class | B |
| Communication speed | 1Gbps,100Mbps |
| Function | |
| External dimensions | |
| Mass | |
| Standard Price | Please contact us. |
Contact
[Japan]

Company name : モベンシス株式会社
Address : 東京都立川市錦町3-1-13 立川ASビル 2F
Telephone : 042-512-5377
Mail : info.jp@movensys.com
https://www.movensys.com

[Korea]

Company name : 모벤시스 (주)
Address : 경기도 성남시 분당구 황새울로258번길 25 (수내동,서영빌딩) 8층 모벤시스
Telephone : 031-895-5066
Mail : info.kr@movensys.com
https://www.movensys.com/kr

[Other]

Company name : MOVENSYS Inc.
Address : Tachikawa AS Bldg 2F, 3-1-13 Nishiki-cho,Tachikawa, Tokyo 190-0022, Japan
Telephone : +81-42-512-5377
Mail : info.jp@movensys.com
https://www.movensys.com
Search for a different product
CC-Link Partner Association (CLPA)
Members Site