CC-Link partner product information
CC-Link IE TSN|Peripheral devices|Wiring products
Hirschmann Automation and Control KK.
Next Generation Industrial Ethernet Switche 「BOBCAT (BRS Series) 」
Next-Generation Industrial Ethernet switch by Hirschman Automation & Control Gbmh.
BOBCAT Managed Switche Series provide advanced security to help manufactures build next-generation networks.
Feature
High-port density for connection of an increased number of network devices.
Simultaneously support multiple services on one network through TSN technology.
Prepare for future network growth with increased bandwidth and speed capabilities.
Advanced security features, including wire-speed access control lists (ACL) and automatic denial-of-service (DoS) prevention.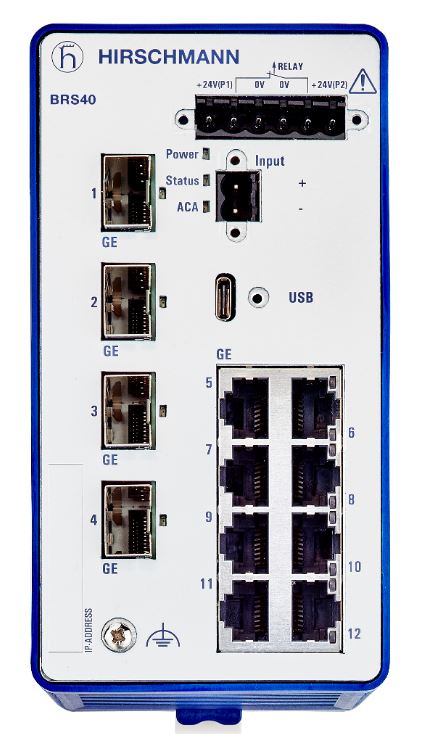 | | |
| --- | --- |
| Authentication Class | |
| Communication speed | |
| External dimensions | BRS40 : Gigabit 8Ports Dimensions (W×H×D): 73 mm x 138 mm x 115 mm*Please contact us for other port count switches |
| Mass | BRS40: Gigabit 8Ports: 500g *Please contact us for other port count switche |
| Standard Price | |
Contact
[Japan]

Company name : Hirschmann Automation and Control K.K.
Address : Level 3, Marunouchi Nijiubashi Building, 3-2-2 Marunouchi Chiyoda-ku Tokyo 100-0005 Japan
Telephone : 03-6837-9613
Mail : japan.sales@belden.com
BELDEN Locations
https://www.belden.com/about/locations

[China]

公司名称 : BELDEN - People's Republic of China
e-mail : china.marketing@belden.com
BELDEN Locations
https://www.belden.com/about/locations

[Korea]

회사명 : BELDEN - South Korea
주소 : 18F, Taesuk Bldg, Mabangro, 10gil 5 Seocho-gu Seoul 06775
전화번호 : +82-2-3497-0331
e-mail : korea.sales@belden.com

[Europe]

Company name : BELDEN & Hirschmann - Germany
Address : Stuttgarter Strabe 45-51 Neckartenzingen 72654 Germany
Telephone : +49.(0).7127/14.0
Mail : inet-sales@beldn.com
BELDEN Locations
https://www.belden.com/about/locations

[US]

Company name : BELDEN USA
Mail : info@belden.com
BELDEN Locations
https://www.belden.com/about/locations

[India]

Company name : BELDEN - Mumbai
Address : Unit 2001 to 2003, 20th Floor, Kailas Business Park, A Wing Veersawarkar Road, Vikhroli (W) Mumbai 400079
Mail : india.sales@belden.com

[Other]

公司名称 : BELDEN - Singapore
地址 : 83 Clemenceau Avenue #07-01/04 UE Square Singapore 239920 Singapore
电话号码 : +65-6879-9800
e-mail : singapore.sales@belden.com
BELDEN Locations
https://www.belden.com/about/locations
Product details: https://www.belden.com/products/bobcat

Search for a different product
CC-Link Partner Association (CLPA)
Members Site