CC-Link partner product information
CC-Link IE TSN|Peripheral devices|Wiring products
Hirschmann Automation and Control KK.
OCTOPUS 8TX -EEC - Unmanged IP67 Switch
The OCTOPUS switches are suited for outdoor applications with rough environmental conditions. Because of the branch typical approvals they can be used in transport applications (E1), as well as in trains (EN 50155) and ships (GL).
Feature
Increased Network Reliability - Unmanaged OCTOPUS Ethernet switches allow fail-safe networks to be installed in a variety of application scenarios and offer maximum network reliability and long-term availability under extreme conditions.
Robust Compact Housing - These switches have an IP67/65 rating, meet the requirements of switching functions in waterproof and dust-tight housings for mounting outside of cabinets and also operate at temperatures ranging from -40 degrees C to +70 degrees C.
Approved for Transportation Use - Unmanaged OCTOPUS switches meet application-specific regulations, including EN 50155 for operating conditions in railway vehicles, EN 50121-4 for use along railway lines, EN 45545 for fire protection in trains, GL for ships, and e1 for use in road vehicles.
PoE Versions Available - Power terminal devices directly via the Ethernet cable, doing away with the need for additional power supply units.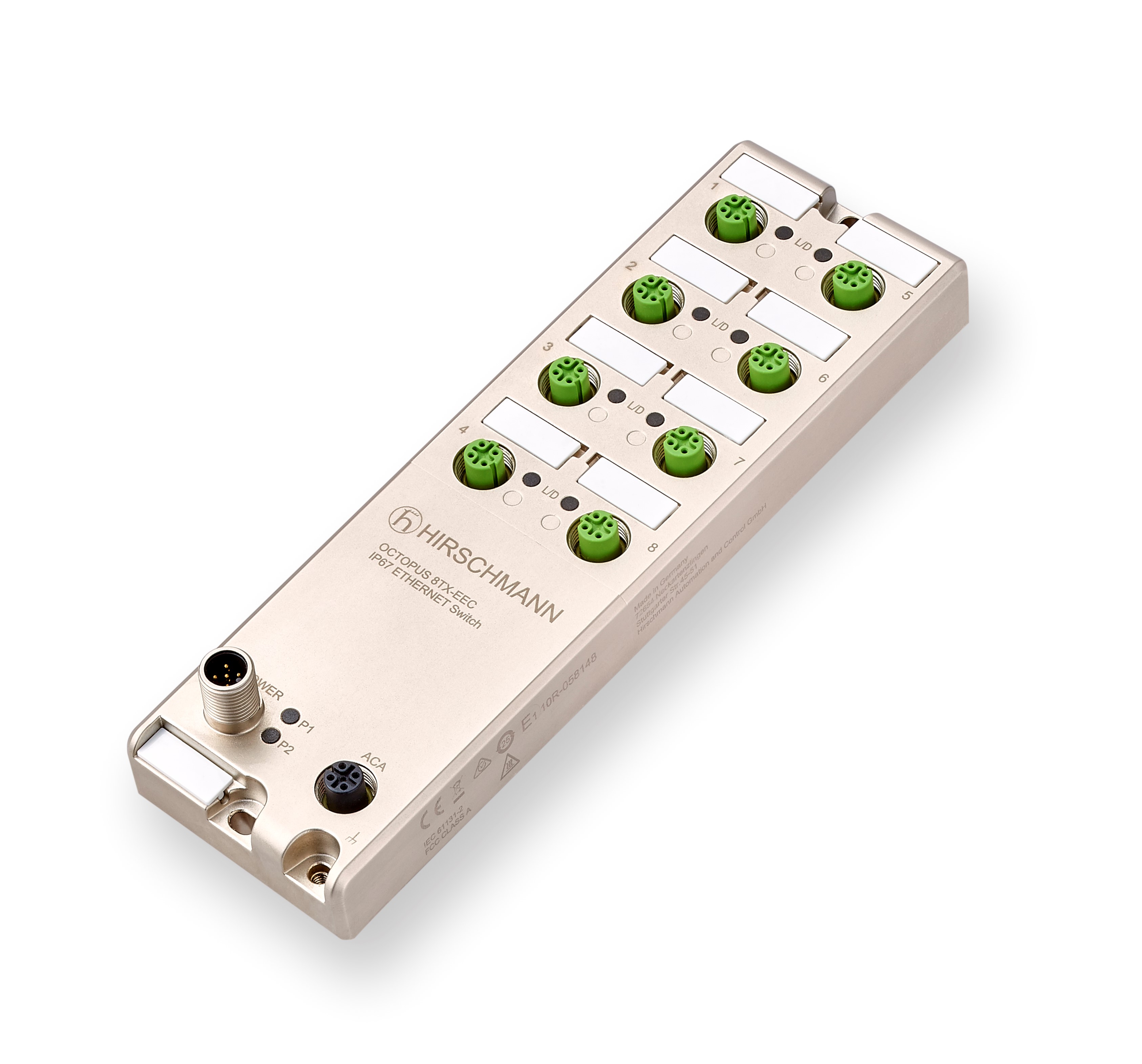 | | |
| --- | --- |
| Protocol version | CC-LINK IE TSN Class A |
| External dimensions | Dimensions (W×H×D): 60 × 200 × 31mm |
| Mass | 470g |
| Standard Price | |
Contact
[Japan]

Company name : Hirschmann Automation and Control K.K.
Address : Level 3, Marunouchi Nijiubashi Building, 3-2-2 Marunouchi Chiyoda-ku Tokyo 100-0005 Japan
Telephone : 03-6837-9613
Mail : japan.sales@belden.com
BELDEN Locations
https://www.belden.com/about/locations

[China]

公司名称 : BELDEN - People's Republic of China
e-mail : china.marketing@belden.com
BELDEN Locations
https://www.belden.com/about/locations

[Korea]

회사명 : BELDEN - South Korea
주소 : 18F, Taesuk Bldg, Mabangro, 10gil 5 Seocho-gu Seoul 06775
전화번호 : +82-2-3497-0331
e-mail : korea.sales@belden.com

[Europe]

Company name : BELDEN & Hirschmann - Germany
Address : Stuttgarter Strabe 45-51 Neckartenzingen 72654 Germany
Telephone : +49.(0).7127/14.0
Mail : inet-sales@beldn.com
BELDEN Locations
https://www.belden.com/about/locations

[US]

Company name : BELDEN USA
Mail : info@belden.com
BELDEN Locations
https://www.belden.com/about/locations

[India]

Company name : BELDEN & Hirschmann - Germany
Address : Stuttgarter Strabe 45-51 Neckartenzingen 72654 Germany
Telephone : +49.(0).7127/14.0
Mail : inet-sales@beldn.com
BELDEN Locations
https://www.belden.com/about/locations

[Other]

公司名称 : BELDEN - Singapore
地址 : 83 Clemenceau Avenue #07-01/04 UE Square Singapore 239920 Singapore
电话号码 : +65-6879-9800
e-mail : singapore.sales@belden.com
BELDEN Locations
https://www.belden.com/about/locations
Product details: https://www.belden.com/products/industrial/networking/unmanaged-switches/unmanaged-octopus-switches

Search for a different product
CC-Link Partner Association (CLPA)
Members Site