CC-Link partner product information
CC-Link IE Field|Peripheral devices・others|Cables・connectors
Belden Hirschmann Industries(Suzhou)Ltd.
BELDEN RVAIP2SME CC-Link IE Field RJ45 Shielded CAT6A Industrial Plug
BELDEN Industrial REVConnect RVAIP2SME is RJ45 Shielded CAT6A IP20 rated Plug with Universal Core. It is ideal for RJ45 industrial applications requiring field termination of Ethernet Cat5E, 6 and 6A cables with 22-24 AWG.This plug is built with UL94 V-0 materials and features to combat vibration, shock & extreme temperatures. It is cULus Listed & has been safety tested to UL2043 for air handling spaces. It guarantees maximized network uptime & performance, even in the toughest industrial environments.
Feature
Suitable Cable specifications: Industrial Ethernet Category 5E, 6 and 6A cables. Conductor size range 22-24 AWG.
Wiring Scheme: T568A/B
UL Rating: UL94 V-0
IP rating: IP20
Termination Front Connection Durability: 750 cycles
Termination Rear Connection Durability: 200 cycles
Telecommunications Standards: Category 6A - TIA 568.C.2, Category 6A - ISO/IEC 11801:2002 Ed.2
IEEE Specification: Power Over Ethernet (PoE) IEEE 802.3at type 1 and 2 (up to 30W) IEEE802.3bt/D1.7 type 3 and 4 (up to 100W), CISCO UPOE (up to 60W), Power over HDBaseTTM (up to 100W)
CC Link IE Field Network Certified, Reference Number 203
Other Specification: UL 1863, IEC 60603-7, FCC part 68-F
UL Flammability: UL2043 Air Handling Spaces
Safety Listing: c(UL)us Listed
EU Directive 2002/95/EC (RoHS): Yes
EU RoHS Compliance: 2006-07-01
Extended operating temperature range of -40°C to +70°C
Oil, chemical, and weld splatter resistant
Tool Compatibility: Belden RVUTT01 Termination Tool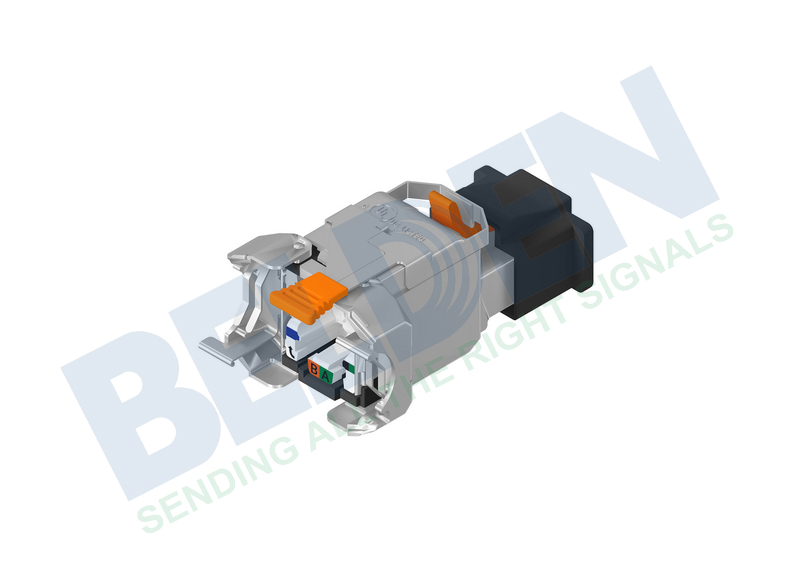 | | |
| --- | --- |
| Station type | |
| Number of stations occupied | |
| CC-Link version | |
| External dimensions | |
| Mass | 0.048 lbs |
| Standard Price | |
Contact
[Japan]

Mail : shigehiro.aoki@belden.com
Daini Yanagiya Building 2F 1-12-8 Nihonbashi Chuo-ku
Tokyo 1030027 Japan
Tel:+81-3-6848.6390 Fax: +81-3-3516.2519
e-mail: japan.sales@belden.com

[China]

Name: Avishi Kansal
Department: Research and Development 333 Yanhu Avenue, Huaqiao Town, Kunshan City, Suzhou 215332, Jiangsu Province,
Tel: +86-512-5796-1688, Fax: +86-512-5796-1222
Mail: china.marketing@belden.com

[Korea]

•현지법인 벨덴코리아
서울시 서초구 마방로10길 5 태석빌딩 1808호
Tel : 02-3497-0331

대리점 썬리드(주)
서울시 송파구 올림픽로 319 교통회관 10층
Tel:02-2202-2656

[India]

Chakan MIDC Phase II,
Village Bhamboli, Tal: Khed,
District- Pune, Pin: 410507, India
Tel:+91 2135638791 Fax:+91 213563 8790
india.sales@belden.com

[Other]

83 Clemenceau Avenue#07-01/04 UE Square Singapore 239920
Tel:+65-6879-9800 Fax:+65-6567-9656
e-mail:singapore.sales@belden.com

No. 3 Promphan 3 Building
UNIT 1725, 17th Floor, Soi Lad Phrao 3
Chomphon Sub-District,Chatuchak District Bangkok 10900 Thailand
Tel:+66-2026-0525 Fax:+66-2024-6767
e-mail: thailand.sales@belden.com
URL: http://www.belden.com/

Search for a different product
CC-Link Partner Association (CLPA)
Members Site