CC-Link partner product information
CC-Link IE TSN|Peripheral devices|Wiring parts
Hirschmann Automation and Control KK.
Industrial Ethernet Switche 「RSPE35 & RSPE37」Class B (1Gbps)
Class B (1Gbps) Industrial Ethernet switch by Hirschman Automation & Control Gbmh
Feature
RSP35 and 37 features hardened, compact managed industrial DIN rail switches with Gigabit speed. These switches support comprehensive redundancy protocols like PRP (Parallel Redundancy Protocol), HSR (High-availability Seamless Redundancy), DLR (Device Level Ring), and also CC-Link IE TSN and provide an optimum degree of flexibility with several thousand variants.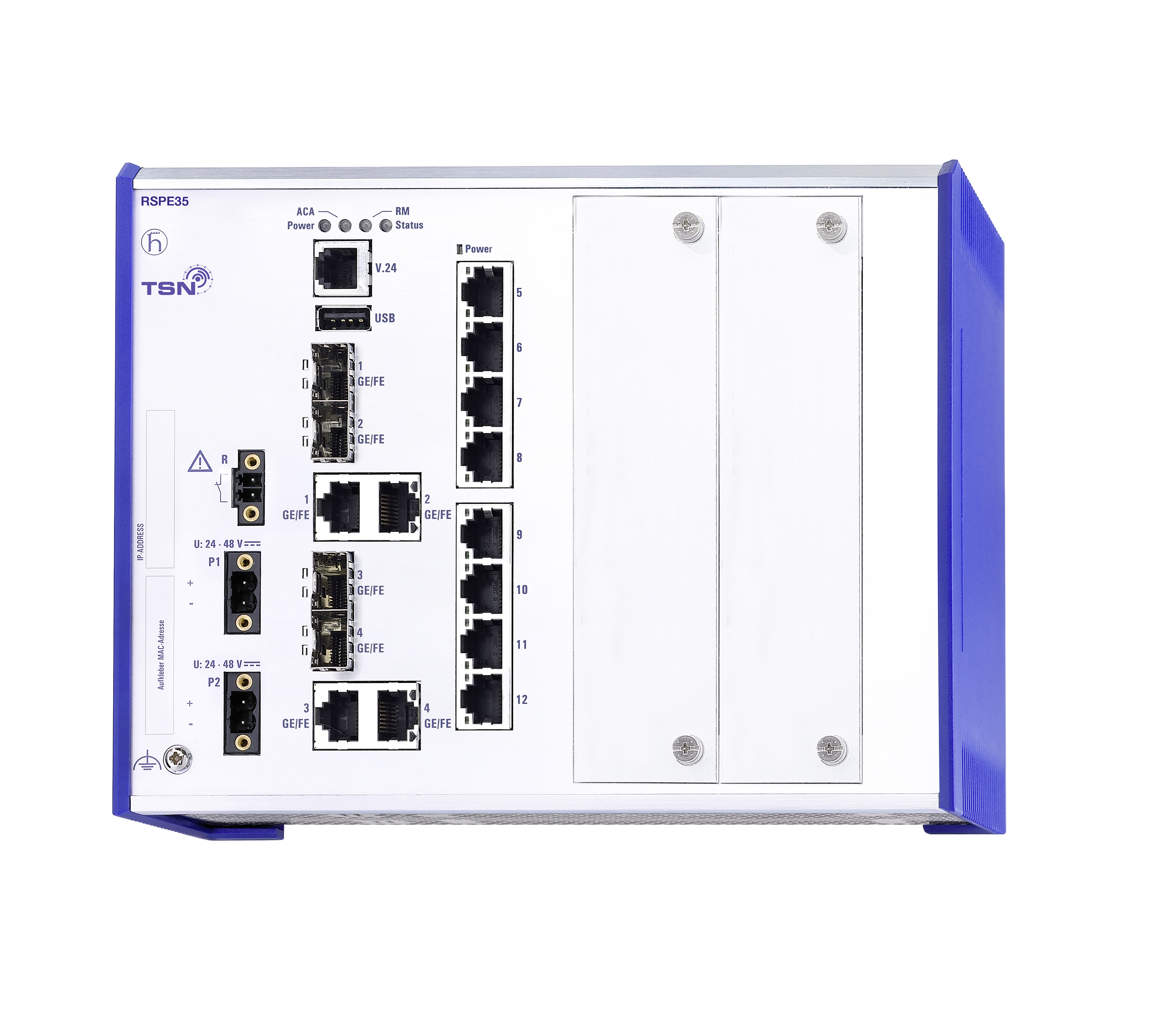 | | |
| --- | --- |
| Station type | |
| Number of stations occupied | |
| CC-Link version | CC-Link IE TSN Class B |
| External dimensions | Dimensions (W×H×D): 217 × 164 × 120mm (EEC) |
| Mass | Weight: 2.2kg; 2.5kg, plus media odules |
| Standard Price | |
Contact
[Japan]

Company name : Hirschmann Automation and Control K.K.
Address : Level 3, Marunouchi Nijiubashi Building, 3-2-2 Marunouchi Chiyoda-ku Tokyo 100-0005 Japan
Telephone : 03-6837-9613
Mail : japan.sales@belden.com
BELDEN Locations
https://www.belden.com/about/locations

[China]

公司名称 : BELDEN - People's Republic of China
e-mail : china.marketing@belden.com
BELDEN Locations
https://www.belden.com/about/locations

[Korea]

회사명 : BELDEN - South Korea
주소 : 18F, Taesuk Bldg, Mabangro, 10gil 5 Seocho-gu Seoul 06775
전화번호 : +82-2-3497-0331
e-mail : korea.sales@belden.com

[Europe]

Company name : BELDEN & Hirschmann - Germany
Address : Stuttgarter Strabe 45-51 Neckartenzingen 72654 Germany
Telephone : +49.(0).7127/14.0
Mail : inet-sales@beldn.com
BELDEN Locations
https://www.belden.com/about/locations

[US]

Company name : BELDEN USA
Mail : info@belden.com
BELDEN Locations
https://www.belden.com/about/locations

[India]

Company name : BELDEN - Mumbai
Address : Unit 2001 to 2003, 20th Floor, Kailas Business Park, A Wing Veersawarkar Road, Vikhroli (W) Mumbai 400079
Mail : india.sales@belden.com

[Other]

公司名称 : BELDEN - Singapore
地址 : 83 Clemenceau Avenue #07-01/04 UE Square Singapore 239920 Singapore
电话号码 : +65-6879-9800
e-mail : singapore.sales@belden.com
BELDEN Locations
https://www.belden.com/about/locations
Product details: http://info.belden.com/hubfs/resources/technical/product-brochures-bulletins/rspe-switches-product-bulletin.pdf

Search for a different product
CC-Link Partner Association (CLPA)
Members Site