CC-Link partner product information
CC-Link IE TSN|Device|Digital I/O
Nanjing Solidot Electronic Technology Co., Ltd.
XB6-CT2002ST
CC-Link IE TSN distributed remote IO supports CC-Link IE TSN protocol. After a protocol adapter, it can flexibly connect digital input and output, analog input and output, temperature control, step drive, valve terminal, etc; It is a major upgrade based on the traditional distributed remote IO, which perfectly integrates logic, temperature, motion, pneumatic and
fieldbus, greatly simplifying the design difficulty and application cost of customers.
Feature
Self-developed X-bus backplane bus;
32 slave stations, 1024 IO points, scan cycle as low as 1ms;
Support IO synchronization mechanism, the precision is 1us;
Unit module size 106*73*25.7mm;
Flexible configuration: DI/O module, AI/O module, temperature control module, stepper drive module, valve terminal, etc.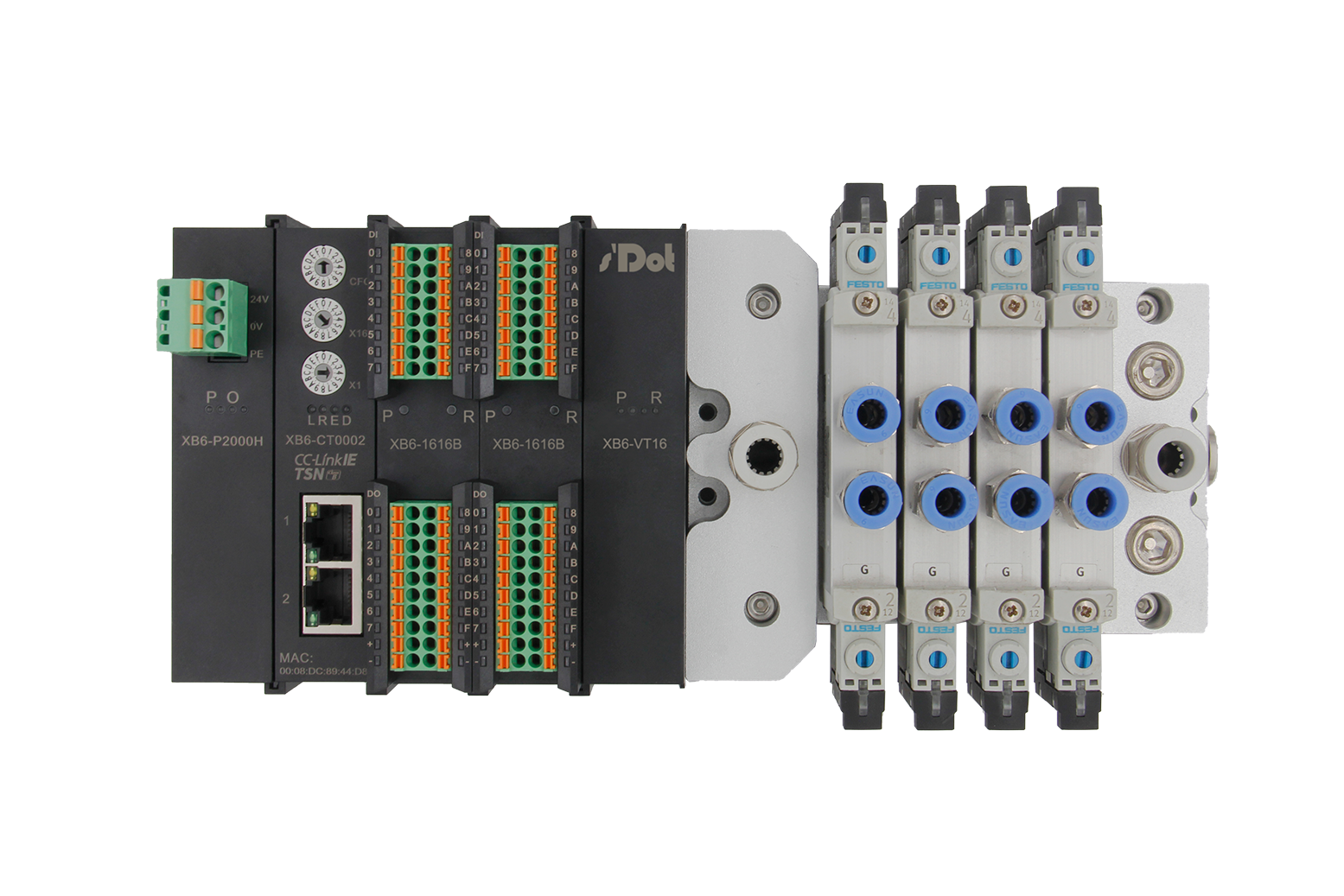 | | |
| --- | --- |
| Station type | Remote station |
| Certification Class | B |
| Communication speed | 1Gbps |
| Function | |
| External dimensions | 106*73*25.7mm |
| Mass | 150g |
| Standard Price | |
CSP+File
Contact
[Japan]

公司名称 : 南京实点电子科技有限公司
地址 : 南京市雨花台区雨花经济开发区凤华路18号
电话号码 : 18020168285
e-mail : xiaobo.chen@solidotech.com

[China]

公司名称 : 南京实点电子科技有限公司
地址 : 南京市雨花台区雨花经济开发区凤华路18号
电话号码 : 18020168285
e-mail : xiaobo.chen@solidotech.com

[Korea]

公司名称 : 南京实点电子科技有限公司
地址 : 南京市雨花台区雨花经济开发区凤华路18号
电话号码 : 18020168285
e-mail : xiaobo.chen@solidotech.com

[Taiwan]

公司名称 : 南京实点电子科技有限公司
地址 : 南京市雨花台区雨花经济开发区凤华路18号
电话号码 : 18020168285
e-mail : xiaobo.chen@solidotech.com

[Europe]

公司名称 : 南京实点电子科技有限公司
地址 : 南京市雨花台区雨花经济开发区凤华路18号
电话号码 : 18020168285
e-mail : xiaobo.chen@solidotech.com

[US]

公司名称 : 南京实点电子科技有限公司
地址 : 南京市雨花台区雨花经济开发区凤华路18号
电话号码 : 18020168285
e-mail : xiaobo.chen@solidotech.com

[India]

公司名称 : 南京实点电子科技有限公司
地址 : 南京市雨花台区雨花经济开发区凤华路18号
电话号码 : 18020168285
e-mail : xiaobo.chen@solidotech.com

[Other]

公司名称 : 南京实点电子科技有限公司
地址 : 南京市雨花台区雨花经济开发区凤华路18号
电话号码 : 18020168285
e-mail : xiaobo.chen@solidotech.com
Product details: https://www.solidotech.com/products/slash/coupler/xb6-ct2002st

Search for a different product
CC-Link Partner Association (CLPA)
Members Site