CC-Link partner product information
CC-Link/LT|Peripheral devices|Cables・connectors
MITSUBISHI ELECTRIC SYSTEM & SERVICE CO., LTD.
Open sensor connector (e-CON) ENC-A* ENC-M*
Feature
Easy work
・Attach the connector easily by crimping with a dedicated crimping tool (model name: e-TOOL-N). Connectors can also be attached with pliers come on to the market.
・No waste is generated as the wires do not need to be pre-treated.
Reliability
The wires are connected with crimping, eliminating trouble caused by poor contact.
Reliability
・A diverse lineup of applicable wire sizes from 0.08 to 0.50mm2 (AWG28 to 20).
・Using the conductivity check window, the conductivity can be checked with a tester even while wires are energized.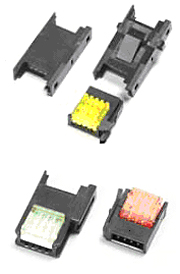 | | |
| --- | --- |
| Protocol version | - |
| Mass | |
| Standard Price | お問い合わせください。 |
Contact
[Japan]

name : MITSUBISHI ELECTRIC SYSTEM & SERVICE CO., LTD.
e-mail : info@melsc.jp

[China]

For inquiries about products and purchase please mail us at following address.
e-mail : osb.webmaster@melsc.jp

[Korea]

For inquiries about products and purchase please mail us at following address.
e-mail : osb.webmaster@melsc.jp

[Taiwan]

For inquiries about products and purchase please mail us at following address.
e-mail : osb.webmaster@melsc.jp

[Europe]

For inquiries about products and purchase please mail us at following address.
e-mail : osb.webmaster@melsc.jp

[US]

For inquiries about products and purchase please mail us at following address.
e-mail : osb.webmaster@melsc.jp

[India]

For inquiries about products and purchase please mail us at following address.
e-mail : osb.webmaster@melsc.jp

[Other]

For inquiries about products and purchase please mail us at following address.
e-mail : osb.webmaster@melsc.jp
Search for a different product