CC-Link partner product information
CC-Link/LT|Peripheral devices|Cables・connectors
MITSUBISHI ELECTRIC SYSTEM & SERVICE CO., LTD.
Connection connector for VCTF cables, movable cables CL9-CNR-23 CL9-CNR-20
Feature
Easy operation
・Connectors can be easily crimped using a special crimping tool (model name: L-TOOL-N). Pliers available on the market are also available.
Wrong wiring prevented
・Each connector is equipped with a window for checking wiring. The wiring is wrong if the red, white or black cable is visible through the window.
・To prevent wrong wiring, a color marking is on the cover of the connector that a VCTF movable cable is connected to.
Multiple functions
・By cutting the resin at the end of the cover with nippers, the connector can be used as a connector for branch connection.
・The male and female halves have the same body. Connectors can be engaged if they are the same type.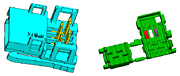 | | |
| --- | --- |
| Protocol version | - |
| Mass | |
| Standard Price | 7,400円(20個セット) |
Contact
[Japan]

name : MITSUBISHI ELECTRIC SYSTEM & SERVICE CO., LTD.
e-mail : info@melsc.jp

[China]

For inquiries about products and purchase please mail us at following address.
e-mail : osb.webmaster@melsc.jp

[Korea]

For inquiries about products and purchase please mail us at following address.
e-mail : osb.webmaster@melsc.jp

[Taiwan]

For inquiries about products and purchase please mail us at following address.
e-mail : osb.webmaster@melsc.jp

[Europe]

For inquiries about products and purchase please mail us at following address.
e-mail : osb.webmaster@melsc.jp

[US]

For inquiries about products and purchase please mail us at following address.
e-mail : osb.webmaster@melsc.jp

[India]

For inquiries about products and purchase please mail us at following address.
e-mail : osb.webmaster@melsc.jp

[Other]

For inquiries about products and purchase please mail us at following address.
e-mail : osb.webmaster@melsc.jp
Search for a different product