CC-Link partner product information
CC-Link/LT|Peripheral devices|Cables・connectors
MITSUBISHI ELECTRIC SYSTEM & SERVICE CO., LTD.
Connection connector for flat cables CL9-CNF-18
Feature
Easy operation
・Connectors can be easily crimped using a special crimping tool (model name: L-TOOL-N). Pliers available on the market are also available.
Wrong wiring prevented
・Each connector is equipped with a window for checking wiring. The wiring is wrong if the orange cable is visible through the window.
Multiple functions
・By cutting the resin at the end of the cover with nippers, the connector can be used as a connector for branch connection.
・The male and female halves have the same body. Connectors can be engaged if they are the same type.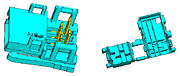 | | |
| --- | --- |
| Protocol version | - |
| Mass | |
| Standard Price | 3,500円(10個セット) |
Contact
[Japan]

name : MITSUBISHI ELECTRIC SYSTEM & SERVICE CO., LTD.
e-mail : info@melsc.jp

[China]

For inquiries about products and purchase please mail us at following address.
e-mail : osb.webmaster@melsc.jp

[Korea]

For inquiries about products and purchase please mail us at following address.
e-mail : osb.webmaster@melsc.jp

[Taiwan]

For inquiries about products and purchase please mail us at following address.
e-mail : osb.webmaster@melsc.jp

[Europe]

For inquiries about products and purchase please mail us at following address.
e-mail : osb.webmaster@melsc.jp

[US]

For inquiries about products and purchase please mail us at following address.
e-mail : osb.webmaster@melsc.jp

[India]

For inquiries about products and purchase please mail us at following address.
e-mail : osb.webmaster@melsc.jp

[Other]

For inquiries about products and purchase please mail us at following address.
e-mail : osb.webmaster@melsc.jp
Search for a different product