CC-Link partner product information
CC-Link/LT|Peripheral devices|Cables・connectors
MITSUBISHI ELECTRIC SYSTEM & SERVICE CO., LTD.
Dedicated movable cable CL9-MV4-075
Feature
A bending performance of 4,000,000 or more bends *1 is realized by using insulator (ETFE) and wire structure with outstanding bending characteristics.
*1 Value measured under specified conditions.
Sheath with outstanding oil resistance enables use in environment where cutting oil or lubrication oil could come in contact.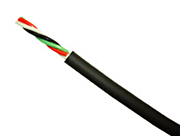 | | |
| --- | --- |
| Protocol version | - |
| Mass | |
| Standard Price | お問い合わせください |
Contact
[Japan]

name : MITSUBISHI ELECTRIC SYSTEM & SERVICE CO., LTD.
e-mail : info@melsc.jp

[China]

For inquiries about products and purchase please mail us at following address.
e-mail : osb.webmaster@melsc.jp

[Korea]

For inquiries about products and purchase please mail us at following address.
e-mail : osb.webmaster@melsc.jp

[Taiwan]

For inquiries about products and purchase please mail us at following address.
e-mail : osb.webmaster@melsc.jp

[Europe]

For inquiries about products and purchase please mail us at following address.
e-mail : osb.webmaster@melsc.jp

[US]

For inquiries about products and purchase please mail us at following address.
e-mail : osb.webmaster@melsc.jp

[India]

For inquiries about products and purchase please mail us at following address.
e-mail : osb.webmaster@melsc.jp

[Other]

For inquiries about products and purchase please mail us at following address.
e-mail : osb.webmaster@melsc.jp
Search for a different product