CC-Link partner product information
CC-Link/LT|Master|PLC
MITSUBISHI ELECTRIC CORPORATION
Model FX3UC-32MT-LT(-2) micro PLC
Equipped with a master function for CC-Link/LT as a standard item, this high-speed, high-performance PLC is far beyond the established image of micro PLCs.
Feature
The basic performance has been significantly improved.
The basic and applied commands are refined. The calculation performance has been accelerated. Additionally, 64-k step RAM memory is incorporated as a standard item to deal with large programs.
A series of functions of the highest level in the industry have been integrated
Independent positioning of three axes at up to 100 kHz and six-point simultaneous high-speed counting at 100 kHz are integrated.
A Chinese character display module has been included for the first time as a standard item.
The analog functions upgraded
Four special adapters for analog input/output can be connected, which are capable of performing analog control without using any program. Besides the PID commands, the numerical calculation function has been significantly upgraded.
The communication function has been upgraded
With two additional general-purpose communication ports for serial communication, a total of three communication ports are available.
General X (input) and Y (output) devices are allocated to remote I/O modules and can operate with the same program as that for general-purpose input/output.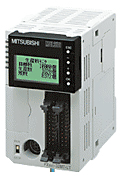 | | |
| --- | --- |
| Station type | Master station |
| Number of stations occupied | |
| Protocol version | - |
| External dimensions | 90(H)×55(W)×87(D) mm |
| Mass | 0.25 kg |
| Standard Price | |
Contact
[Korea]

회사명 : 현지법인 한국미쓰비시전기오토메이션㈜
주소 : 서울특별시 강서구 양천로 401 강서한강자이타워 A동 9층
전화번호 : 02-3664-8333
URL:http://kr.mitsubishielectric.com/fa/ko/
Search for a different product