CC-Link partner product information
CC-Link/LT|Master|PLC
MITSUBISHI ELECTRIC CORPORATION
Model FX2N-64CL-M Master Module
This module transforms an FX PLC into the master station for a CC-Link/LT system.
Feature
Each remote I/O module can be easily connected to the master module using a dedicated connector, thus reducing wiring.
Up to 64 remote I/O modules can be connected.
General X (input) and Y (output) devices are allocated to remote I/O modules and can operate with the same program as that for general-purpose input/output.
Since serial device numbers are assigned even if two-point and four-point remote I/O modules are used, I/O allocation can be efficiently performed.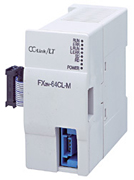 | | |
| --- | --- |
| Station type | Master station |
| Number of stations occupied | |
| Protocol version | - |
| External dimensions | 90×43×87 mm |
| Mass | 0.15 kg |
| Standard Price | |
Contact
[Japan]

MITSUBISHI ELECTRIC CORPORATION FUKUYAMA WORKS Eco-factory Engineering Group
MITSUBISHI ELECTRIC CORPORATION FUKUYAMA WORKS Measuring Instrument Marketing Section

[Korea]

회사명 : 현지법인 한국미쓰비시전기오토메이션㈜
주소 : 서울특별시 강서구 양천로 401 강서한강자이타워 A동 9층
전화번호 : 02-3664-8333
URL:http://kr.mitsubishielectric.com/fa/ko/
Search for a different product