CC-Link partner product information
CC-Link|Slave|Miscellaneous
ESTIC CORPORATION
[Handy2000 series] Handy Type Nut Runner
The next generation handheld nutrunner "Handy 2000".Compatible with various control needs such CC-Link.
Feature
High quality and accurate fastening tool based on ISO5393.
No oil mist nor noise as generated by pneumatic nutrunners. Clean and quiet working environment.
Handy2000 consumes about 1/20 the energy in comparison with pneumatic nutrunners.
Versatile functions such as Job, Multi channels, and simplified PLC are included to further enhance efficiency in fastening.
Estic's patented pulse technology reduces the reaction generated during fastening.
7 colors with the high-intensity LED lamps are visible at any angle regardless of the posture of the operator.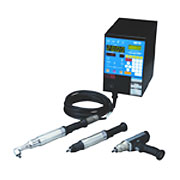 | | |
| --- | --- |
| Station type | Remote device station |
| Number of stations occupied | 1-4 station |
| Protocol version | Ver.2.0 |
| External dimensions | 200(W)×270(D)×300(H) mm |
| Mass | 10 kg |
| Standard Price | お問い合わせください |
Contact
[Japan]

ESTIC Corporation
2-5-9 Hashibahigashino-cho, Moriguchi City, Osaka 570-0031, Japan
International Dept. Phone:(81)50-5523-7676 FAX:(81)6-6993-8881

[China]

SHANGHAI ESTIC CO.,LTD
Phone: +86-21-68130333

[Korea]

E-SONG Engineering Co., Ltd.
301-1302, Bucheon Technopark, 365, Samjeong-Dong, Ojeong-Gu,
Bucheon, Korea
Phone : + 82-32-326-1771
e-mail : esong94@hanmail.net


[Taiwan]

DEAMARK Limited
No. 6 Lane 5, Linsen N. Rd.,
Taipei, Taiwan
Phone : + 886-2-2393-1221
e-mail : davidchang@deamark.com.tw
URL : www.deamark.com.tw

[Europe]

SIRA S.p.A.
Via della Resistenza, 53-20090, Buccinasco, Milan, Italy
Phone: +39-2-488-5271

[US]

ESTIC America, Inc.
1895 Airport Exchange Blvd, Suite 220, Erlanger,
KY 41018 – U.S.A.
Phone: +1-859-746-8800
Email : support@estic-america.com

[India]

MICRONTECH Engineers Pvt. Ltd.
R-22, 1st Floor, Rita Block, Shakarpur, Delhi 110092 India
Phone: +91-120-4331362
Email: sales@microntechgroup.com
Search for a different product