CC-Link partner product information
CC-Link|Slave|PC
Molex Japan Co.,Ltd.
Brad SST-CCS-PCU Interface Card for CC-Link PCI Slave
A high-performance, low-price CC-Link slave card with full functions, coming with the VxWorks driver as a standard feature.
The PCI (3.3/5V) and PCI Express cards is most suitable for PC solutions.
Supported full and half bracket

Feature
Use of the latest CPU MCF5470 ensures high performance.
Capable of CC-Link communication without disturbing the host CPU.
The shared memory integrated in the card takes care of data communication.
Windows and VxWorks 5.5 drivers are standard features.
Enables to develop a custom-made driver.
Available at an unprecedented low price.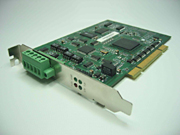 | | |
| --- | --- |
| Station type | Remote device station |
| Number of stations occupied | 1 to 4 stations |
| Protocol version | Ver.1.1 |
| External dimensions | |
| Mass | |
| Standard Price | お問い合わせください |
Contact
[Japan]

Molex Japan LLC
Industrial Solutions Business Unit(ISBU)
1-5-4, Fukami-higashi, Yamato-shi, Kanagawa 242-8585
TEL: +81-46-265-2428
FAX:+81-46-265-2429

[China]

name : Molex Shangahi Plant & Sales Office
phone : 86-21-5048-0889

[Korea]

name : Molex Korea LLC
phone : 82-31-492-9000
e-mail : korea@molex.co.kr

현지법인 한국몰렉스㈜
경기도 안산시 단원구 산단로 169 GLOBAL MICRO PRODUCTS DIVISION
Tel : 031-490-5926
URL:www.molex.co.kr
대리점 ㈜케이디피에스
경기도 안산시 상록구 사동 1560-4번지
Tel: 031-406-5700
URL: www.e-kdps.com


[Taiwan]

name :
phone :
e-mail :
other :

[Europe]

name :
phone :
e-mail :
other :

[US]

name :
phone :
e-mail :
other :

[India]

name :
phone :
e-mail :
other :

[Other]

name :
phone :
e-mail :
other :
URL: http://www.molex.com

Search for a different product