CC-Link partner product information
CC-Link|Slave|Robot
DENSO WAVE INCORPORATED
Industrial DENSO Robot "HIGH SPEED & COMPACT"
The robot with a rich lineup corresponds to your various needs (VP, VS, VM, HS, HM, XR, and XYC-4 series).
Feature
The RC7M controller achieves a high extendibility to correspond to the user's needs.
Attaching a special option board to the extension slot enables the CC-Link slave communication function.
When the system is connected to peripherals such as PLC, man-hours necessary for wiring are reduced, and the installation and maintenance are easy.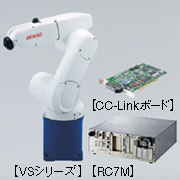 | | |
| --- | --- |
| Station type | Remote device station |
| Number of stations occupied | 2 to 4 stations |
| Protocol version | Ver.1.10 |
| External dimensions | |
| Mass | |
| Standard Price | |
Contact
[Japan]

(DENSO Agui Plant premises) 1 Yoshiike Kusagi, Agui-cho, Chita-gun, Aichi 470-2297, JAPAN
TEL: +81-569-49-5014 (direct) FAX: +81-569-49-5484
E-mail: fa-support@denso-wave.co.jp

[Korea]

현지법인 덴소인터내셔널코리아㈜
경기도 의왕시 성고개로 131(포일동 650) 시판팀
TEL: 031-340-1737


Search for a different product
CC-Link Partner Association (CLPA)
Members Site