CC-Link partner product information
CC-Link|Device|Robot
YAMAHA MOTOR CO., LTD.
ERCX/DRCX Series Robot Controller
A CC-Link-compatible controller for YAMAHA single-axis and orthogonal robots.
Feature
A complete absolute system makes the home position return of robots no longer necessary.
I/O devices connected to the parallel I/O ports of the controller, such as sensors, can be controlled from the sequencer without using any program.
According to the motor output, the optimum driver model can be selected for each motor.
The optimum gain and acceleration/deceleration can be automatically set simply by entering the mass of the object to be conveyed at the mass parameter.
Even beginners can program the controller with ease because of BASIC-like commands.
By only teaching points and then giving I/O move commands from the sequencer, the controller can be used without any program.
A multitask function permits input/output control while a robot is moving.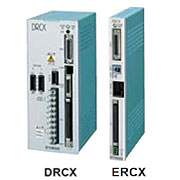 Station type
Remote device station
Number of stations occupied
2 stations
Protocol version
Ver. 1.10
External dimensions
ERCX: 30(W) × 250(H) × 157(D) mm
DRCX: 100(W) × 250(H) × 157(D) mm
Mass
ERCX: 0.9 kg, DRCX: 2.1 kg
Standard Price
¥100,000(ERCX-CC)より,詳細はお問い合わせください
Contact
[Japan]

YAMAHA MOTOR CO.,LTD
IM Operation Robot Business Division
Phone: +81-53-460-6602

[China]

name : 雅馬哈発動機商貿(上海)有限公司(YMCT)
Yamaha Motor Commercial Trading(Shanghai) Co.Ltd.
phone : +86-21-61612905
200241 中華人民共和国上海市閔行區紫竹科学園区紫月路1137号 
No.1137,Ziyue Rd,Zizhu Science-Based Industrial Park,Minhang District,Shanghai,China 200241

[Korea]

대리점 한국지기
인천광역시 남구 매소홀로428번길 13-28
Tel : 032-866-0081


URL: http://www.yamaha-motor.jp/robot/controller/index.html

Mail: robotn@yamaha-motor.co.jp

Search for a different product