CC-Link partner product information
CC-Link|Device|Robot
MITSUBISHI ELECTRIC CORPORATION
RP, RV-A, RH-A, RV-T Robot for Industrial Use
With upgraded network functions, this robot offers diversified systems.
Feature
A 64-bit RISC processor helps the robot move at high speed and with a high degree of accuracy and locus. Appropriate functions are available for each operation.
Communication via the CC-Link can be established simply by inserting a CC-Link card in the option slot.
You can easily access any device connected to the CC-Link by means of a robot-dedicated language (MELFA BASIC).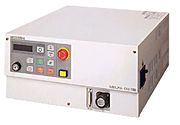 | | |
| --- | --- |
| Station type | Intelligent device station |
| Number of stations occupied | 1 to 4 stations |
| Protocol version | |
| External dimensions | |
| Mass | |
| Standard Price | |
Contact
[Korea]

회사명 : 현지법인 한국미쓰비시전기오토메이션㈜
주소 : 서울특별시 강서구 양천로 401 강서한강자이타워 A동 9층
전화번호 : 02-3664-8333
URL:http://kr.mitsubishielectric.com/fa/ko/
Search for a different product