CC-Link partner product information
CC-Link|Slave|Inverter・Servo systems
NSK Ltd.
Model EDC drive module, series PS Mega-Torque motors
Maximum rotational speed of 10[s-1]. Realizing a detector resolution of 2,620,000 divisions/rotation.
The series PS Mega-Torque motors offer high performance that never was before.
Feature
Reduces positioning time. Use of a new system servo algorithm cuts the setting time to one fifth or shorter compared with our predecessor models.
The motors are low profile. The optimum magnetic field design realizes a thrust density of two times as high as that of our predecessor models.
Equipped with an interchangeable, highly accurate absolute position detector. An integrated, interchangeable absolute position detector with a high detection accuracy of 90 seconds eliminates the return-to-the-origin operation.
The drive module is down-sized. Use of a dedicated module reduces the physical volume of the drive module to 65% of our predecessor models.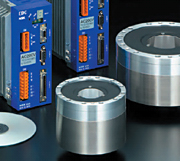 | | |
| --- | --- |
| Station type | Remote device station |
| Number of stations occupied | 2 stations |
| Protocol version | Ver.1.10 |
| External dimensions | 85(W)×160(H)×140(D) mm |
| Mass | 1.3 kg |
| Standard Price | |
Search for a different product
CC-Link Partner Association (CLPA)
Members Site