CC-Link partner product information
CC-Link|Slave|Transmission Devices
TOYO ELECTRIC CORPORATION
SOT-CP801/CP803, SOT-CP1601/CP1603 Parallel Remote Space Optical Transfer Unit (8-bit/16-bit)
Costs have been reduced as a result of less wiring!
Feature
The unit requires no cables and is optimum for data transmission between mobile units.
Using an optical medium eliminates noise and the effect of magnetism.
The unit comes in two types: 8 input points/8 output points and 16 input points/16 output points.
The unit comes with two transmission distances: 1 meter and 3 meters.
The unit is lightweight and compact and uses a detachable connector type terminal block.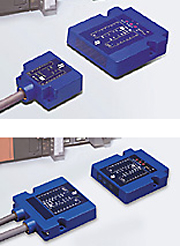 | | |
| --- | --- |
| Station type | Remote I/O station |
| Number of stations occupied | 1 station |
| Protocol version | Ver. 1.10 |
| External dimensions | 90 (W) × 95 (D) × 20 (H) mm |
| Mass | 250 g |
| Standard Price | SOT-CP801:48,000円/SOT-CP803:51,000円/SOT-CP1601:58,000円/SOT-CP1603:61,000円 |
Contact
[Japan]

name : TOYO ELECTRIC CORPORATION
phone : (+81)568-88-1181
e-mail : info@toyo-elec.co.jp
other :

[China]

name : 上海攝陽国際貿易有限公司
phone : 021-3252-2020
e-mail : xiongyy@setsuyo.com.cn
other : 上海市長寧区露路333号 東方維京大厦7層B2室

[Korea]

대리점 ㈜세봉
서울특별시 강남구 논현로8길 5 세봉빌딩 4층
Tel:02-2276-1331


[Taiwan]

name : 日商極貿股份有限公司
phone : 02-2551-4159
e-mail : kbksales1@kbk.com.tw
other : 台北市中山北路二段四十六號五樓之二

[Europe]

name : TOYO ELECTRIC CORPORATION
phone : (+81)568-88-1181
e-mail : info@toyo-elec.co.jp
other :

[US]

name : TOYO ELECTRIC CORPORATION
phone : (+81)568-88-1181
e-mail : info@toyo-elec.co.jp
other :

[India]

name : TOYO ELECTRIC CORPORATION
phone : (+81)568-88-1181
e-mail : info@toyo-elec.co.jp
other :

[Other]

name : TOYO ELECTRIC CORPORATION
phone : (+81)568-88-1181
e-mail : info@toyo-elec.co.jp
other :
URL: http://www.toyo-elec.co.jp/en/

Product details: http://www.toyo-elec.co.jp/en/products/sot-cp816-series-cc-link-support-type/

Mail: info@toyo-elec.co.jp

Search for a different product