CC-Link partner product information
CC-Link IE TSN|Slave|Analog I/O
M-System Co., Ltd.
R30 Series Multi-channel Mixed Signal Remote I/O, NETWORK MODULE (CC-Link IE TSN), R30NCIT1
• Interchanges analog or discrete I/O signals with the
filedbus (CC-Link IE TSN)
• Combined with R3 Series I/O modules
• Certification class: Class B
• Communication speed: 1Gbps
Feature
Remote I/O R30 Series CC-Link IE TSN interface module configured by combining with I/O modules.
R30NCIT1 is categorized as the Remote station and 134 types of I/O modules can be used with CC-Link IE TSN using the R3 series expansion base as well as the R30 series I/O modules.
A wide variety of discrete I/O modules, analog I/O modules, various sensor input modules and etc. are available for various customer applications.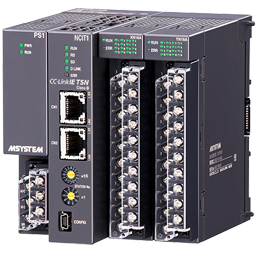 | | |
| --- | --- |
| Station type | Remote station |
| Authentication Class | B |
| Communication speed | 1Gbps |
| Function | |
| External dimensions | W100...450×H110×D98mm |
| Mass | |
| Standard Price | |
CSP+File
Contact
[Japan]

M-System Co., Ltd., International Sales Dept.
5-2-55 Minamitsumori, Nishinari-ku, Osaka 557-0063
TEL: +81 (0)6-6659-8201
FAX: +81 (0)6-6659-8510

[China]

M-System China Co., Ltd. (Shanghai)
TEL: +86 (0)21-6237-2015, 2016
FAX: +86 (0)21-6237-2017

[Korea]

MG Korea Co., Ltd.
TEL: +82 (0)2-548-8203
FAX: +82 (0)70-8282-8262

[Taiwan]

M-System Co., Ltd., International Sales Dept. (Japan)
TEL: +81 (0)6-6659-8201
E-mail: info@m-system.co.jp

[Europe]

M-System Co., Ltd., International Sales Dept. (Japan)
TEL: +81 (0)6-6659-8201
E-mail: info@m-system.co.jp

[US]

M-System Co., Ltd., International Sales Dept. (Japan)
TEL: +81 (0)6-6659-8201
E-mail: info@m-system.co.jp

[India]

M-System Co., Ltd., International Sales Dept. (Japan)
TEL: +81 (0)6-6659-8201
E-mail: info@m-system.co.jp

[Other]

M-System Co., Ltd., International Sales Dept. (Japan)
TEL: +81 (0)6-6659-8201
E-mail: info@m-system.co.jp
URL: https://www.m-system.co.jp/english

Mail: info@m-system.co.jp

Search for a different product