CC-Link partner product information
CC-Link IE Field|Slave|Digital I/O
panasonic Industrial Device SUNX Co
Communication Unit for CC-Link IE Field SC-GU3-04
Digital sensors are directly connected to CC-Link IE Field. Display value and set value of digital sensors can be indicated and set up at PC and/ or touch panel.
Feature
Light entrance value of sensors can be given as Word information. This feature is useful for shipment control and traceability.
Sensor amplifiers can be set up without sliding. This enables easy maintenance and exchange of sensors.
16 of 1-5 V analogue inputs can be received by using 1-5V analogue input unit: SC-T1JA.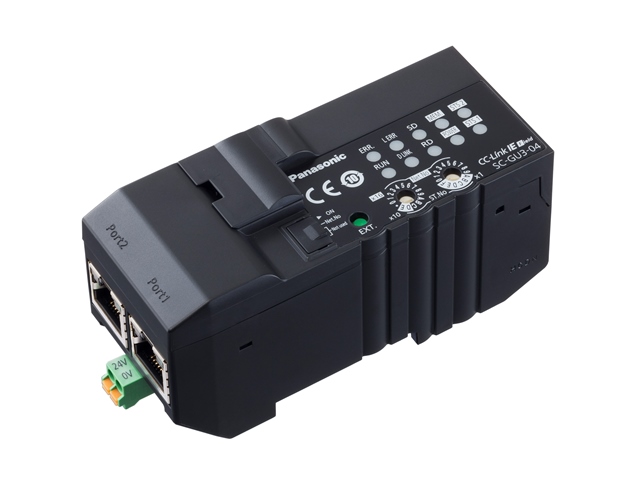 | | |
| --- | --- |
| Station type | Remote device channel |
| Number of stations occupied | - |
| Protocol version | - |
| External dimensions | 40(W)×46.7(H)×96.7(D)mm |
| Mass | 100g |
| Standard Price | 30000円 |
CSP+File
Contact
[Japan]

2431-1, Ushiyama-cho, Kasugai, Aichi 486-0901, Japan
Panasonic Industrial Devices SUNX Co.,Ltd.
Techinical Service: Toll Free 0120-394-205
Techinical Service: Toll Free 0120-336-394(FAX)

[China]

name : Panasonic Industrial Device Sales (China) Co., Ltd.
phone :+86-21-2322-7777
address:Floor7, China Insurance Building, 166 East RoadLuJiaZui,
Pudong New District, Shanghai,200120, China

[Korea]

name : Panasonic Industrial Devices Sales Korea Co., Ltd.
Address :4~6F, DONG IL Tower, 38, Teheran-ro 114-gil, Gangnam-gu, Seoul, 06176, Korea

현지법인 파나소닉디바이스세일즈코리아㈜
서울시 강남구 테헤란로 114길 38 동일타워 4~6층
Tel:02-2052-1050

대리점 텔콤씨앤에스(주)
서울시 구로구 경인로 53길 15 구로중앙유통단지 라동 1715호
Tel : 02-522-9445


[Taiwan]

name : Panasonic Eco Solutions Sales Taiwan Co., Ltd.
phone : +886-2-2581-6020
address:15F., No. 44, 2nd Section, Chung Shan North Road, Taipei, Taiwan

[Europe]

name : Panasonic Electric Works Europe AG(European Headquarters)
phone : +49-89-45354-1000
address : Robert-Koch-Strasse 100, 85521 Ottobrunn,Germany

[US]

name : Panasonic Industrial Devices Sales Company of America(Headquarters)
phone : +1-908-464-3550
address:Two Riverfront Plaza, 7th Floor, Newark, NJ 07102-5490

[India]

name : Panasonic India Pvt.Ltd. (Gurgaon Office)
phone : +91-124-4751300
address:12th Floor, Ambience Corporate Office, Tower-2, Ambience Island, NH-8, Gurgaon-122002, Haryana, India
URL: http://www2.panasonic.co.jp/id/pidsx/e/index.html

Search for a different product