CC-Link partner product information
CC-Link|Master|PLC
MITSUBISHI ELECTRIC CORPORATION
MELSEC iQ-F Series CC-Link system master/intelligent device module FX5-CCL-MS
Master/intelligent device station for MELSEC iQ-F Series.
The CC-Link connects the CPUs of MELSEC iQ-F series PLCs within a single network.

Feature
These modules are available as master or intelligent device stations for the CC-Link.
When operating as master station, max.12 remote I/O stations and max.12 remote device stations and intelligent device stations can be connected. Total max.24 stations can be connected.
CC-Link parameters can be set on the Parameter Setting screen of the programming software GX Works 3 for the MELSEC.
When used as intelligent device station, transmission speed can be set to "automatic flattery".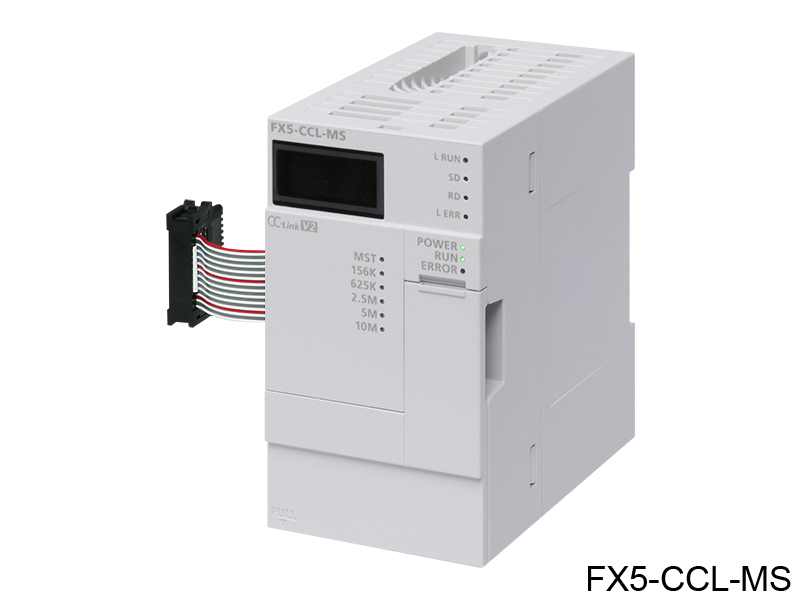 Station type
master staion/intelligent device station
Number of stations occupied
1 to 4 stations (for intelligent device stations)
with some restrictions for extended cyclic setting
Protocol version
Ver. 2.00(Ver. 1.10 also supported.)
External dimensions
50W×90H×83W
Mass
0.3kg
Standard Price
35,000円
CSP+File
Search for a different product