CC-Link partner product information
CC-Link|Device|Inverter・Servo systems
Fuji Electric Co., Ltd
FRENIC-HVAC Series Low voltage AC drives for HVAC applications
The first slim-type inverter specialized in energy-saving from Fuji Electric.
Large Contribution to Reducing Global Warming (Environmental Protection) with Energy Saving!
Feature
Optimal control with energy-saving function by Linearization function, Temperature difference constant control and pressure difference constant control, and Automatic energy-saving operation
Functions suitable for HVAC use (4PID control, Pick-up operation function, Fire mode, Torque vector control, Real time clock, Filter clogging prevention function etc...)
The inverter can be installed independently; no control panel is required.
User friendly, easy to see keypad
Installing a dedicated optional card makes the CC-Link communication available.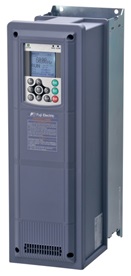 | | |
| --- | --- |
| Station type | Remote device unit |
| Number of stations occupied | 1 station |
| Protocol version | Ver.2.0 and Ver.1.10 |
| External dimensions | |
| Mass | |
| Standard Price | Please contact Fuji Electric. |
Contact
[Japan]

name : Fuji Electric. Co., Ltd.
phone : +81-3-5435-7057
URL : http://www.fujielectric.com/
e-mail : drive@fujielectric.com

[Europe]

name : Fuji Electric Europe GmbH
phone : +49-69-6690290
URL : http://www.fujielectric-europe.com/
e-mail : info_inverter@fujielectric.de
address : Goethering 58, 63067 Offenbach am Main, GERMANY

[US]

name : Fuji Electric Corp. of America
phone : +1-732-560-9410
URL : http://www.americas.fujielectric.com/
address : 50 Northfield Avenue, Edison, NJ 08837, U.S.A.

[India]

name : Fuji Electric India Pvt. Ltd.
phone : +91-22-4010 4870
URL : http://www.fujielectric.co.in/ 
e-mail : info@fein.fujelectric.com
address : 409 410, Meadows, Sahar Plaza, Andheri Kurla Road, J.B. Nagar, Andheri (E) Mumbai 400 059, India

[Other]

東南アジア地区(Southeast Asia & Oceania)
name : Fuji Electric Asia Pacific Pte. Ltd
phone : +65-6533-0014
URL : http://www.sg.fujielectric.com/
e-mail : sales@fap.fujielectric.com
address : 151 Lorong Chuan #2-01A, New Tech Park, SINGAPORE 556741
URL: http://www.fujielectric.co.jp/products/inverter/index.html

Search for a different product