CC-Link partner product information
CC-Link|Slave|Inverter・Servo systems
MITSUBISHI ELECTRIC CORPORATION
MITSUBISHI Sensorless Servo FR-E700EX , MM-GKR
Highly accurate operation achieved without using an encoder.
Sensorless servo system is a combination of a dedicated drive unit and a dedicated sensorless PM motor (magnet motor).
(For CC-Link communication, the option FR-A7NC E kit is required.)
Feature
Dedicated drive unit FR-E700EX
Highly accurate operation is achieved without an encoder using PM sensorless vector control.
・Operation is possible at stable speed resistant to load fluctuations.
・Holding torque is generated by the zero speed control and servo lock functions when the motor stops, preventing movements caused by external forces.
・Built-in positioning function (point table method)using contact signals and CC-Link communication (option). (Not compatible with absolute position detection system.)
Sensorless PM motor MM-GKR
・A sensorless PM motor is a high-performance, energy-saving motor incorporating a powerful permanent magnet (high-performance magnet) in the rotor, helping to realize machine energy saving.
・Compact, lightweight motor with no encoder also contributes to machine downsizing.
・No cooling fan, ensuring low noise. Ideal for use in clean rooms.
・With a protective structure conforming to IP65, this motor is highly resistant to water and dust, allowing the confortable usage in poor environments.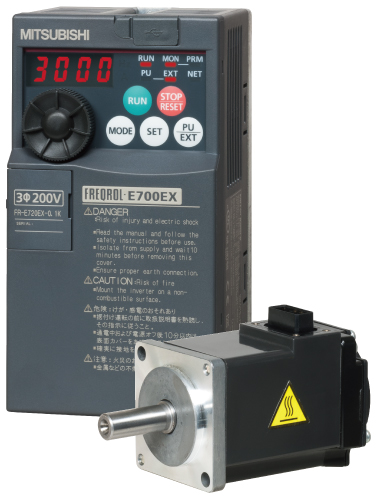 | | |
| --- | --- |
| Station type | Remote device station |
| Number of stations occupied | One station |
| Protocol version | Ver.1, Ver.2 |
| External dimensions | |
| Mass | |
| Standard Price | お問い合わせください |
Contact
[Korea]

회사명 : 현지법인 한국미쓰비시전기오토메이션㈜
주소 : 서울특별시 강서구 양천로 401 강서한강자이타워 A동 9층
전화번호 : 02-3664-8333
URL:http://kr.mitsubishielectric.com/fa/ko/
Search for a different product