CC-Link partner product information
CC-Link|Device|Inverter・Servo systems
MITSUBISHI ELECTRIC CORPORATION
MITSUBISHI Inverter FR-E700 Series
Simple, powerful, and compact inverter
(For CC-Link communication, the option FR-A7NC E kit is required.)
Feature
Provides one of the highest level of control performance among compact inverters
・Equipped with Mitsubishi Electric Corporation's unique "Advanced Magnetic Flux Vector Control" that optimally controls the magnetic flux in a three-phase motor, this inverter develops the highest level of torque characteristics over a wide range from the low frequency band up to the high frequency band. (Startup torque: 200% 0.5Hz (3.7 K or less))
・With the short time load capacity improved to 200% 3 seconds, it realizes more tenacious operation.
・The torque limiting function protects the mechanisms, limits loads and prevents crashing.
Compact and space-conservative
・Though densely packed with high performances in a compact body, the external dimensions well consider the installation exchangeability with the conventional models (FR-E500 series).
・Allowed to install its sides in close contact, the inverter is space-conservative.
Extensiveness
・Simply hooking up an optional FR-A7NCE kit to the standard FR-E700 series enables the CC-Link operation.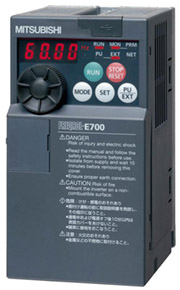 | | |
| --- | --- |
| Station type | Remote device station |
| Number of stations occupied | One station |
| Protocol version | Ver.1, Ver.2 |
| External dimensions | |
| Mass | |
| Standard Price | お問い合わせください |
Contact
[Korea]

회사명 : 현지법인 한국미쓰비시전기오토메이션㈜
주소 : 서울특별시 강서구 양천로 401 강서한강자이타워 A동 9층
전화번호 : 02-3664-8333
URL:http://kr.mitsubishielectric.com/fa/ko/
Search for a different product