CC-Link partner product information
CC-Link|Slave|Inverter・Servo systems
MITSUBISHI ELECTRIC CORPORATION
MITSUBISHI Inverter FR-F700P Seriese(FR-A7NC)
Energy-saving premium inverter for fans and pumps
(For CC-Link communication, the option FR-A7NC is required.)
Feature
Great CO2 emission reduction with energy-saving drive
・ Optimum excitation control continuously adjusts the excitation current to an optimum level to provide the highest motor efficiency leading to substantial energy savings.
・ This series can drive both a general-purpose motor and an IPM motor. Switching between the two motor controls is simple―just a single parameter setting.
(Initially, a general purpose motor could be used, then upgraded to an IPM motor without switching this inverter, leading to lower cost of equipment.)
Easy-to-use
・ The following functions provide the ideal operation for fans and pumps: variable torque
acceleration/deceleration patterns, PID control, commercial power supply switching, adjustable 5 points V/F, continuous operation at an instantaneous power failure, regeneration avoidance function, etc.
Environmentally friendly
・ The newly developed built-in EMC filter reduces electromagnetic noise generated from the inverter.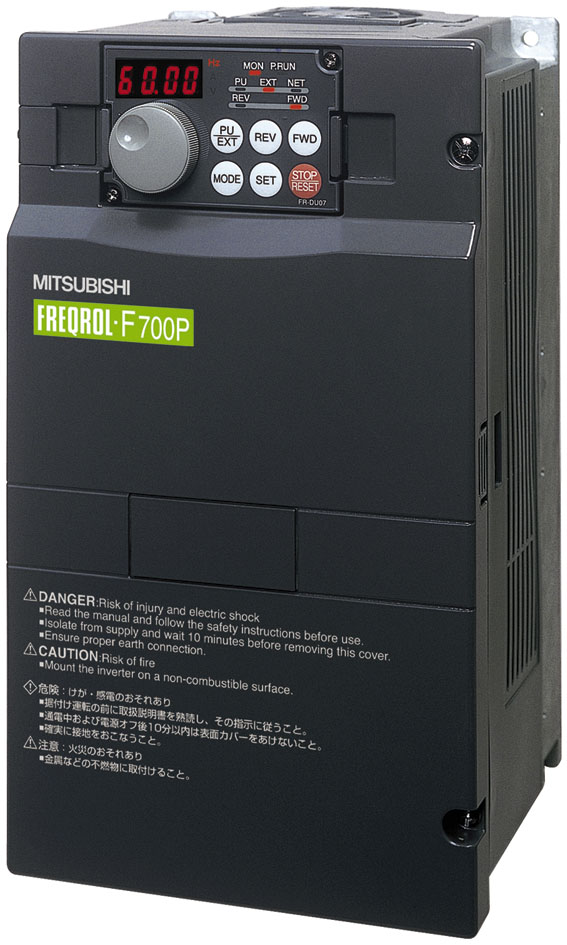 | | |
| --- | --- |
| Station type | Remote device staion |
| Number of stations occupied | One station |
| Protocol version | Ver.1、Ver.2 |
| External dimensions | |
| Mass | |
| Standard Price | お問い合せ下さい |
Contact
[Korea]

회사명 : 현지법인 한국미쓰비시전기오토메이션㈜
주소 : 서울특별시 강서구 양천로 401 강서한강자이타워 A동 9층
전화번호 : 02-3664-8333
URL:http://kr.mitsubishielectric.com/fa/ko/
Search for a different product