CC-Link partner product information
CC-Link IE Field|Device|Inverter・Servo systems
MITSUBISHI ELECTRIC CORPORATION
MITSUBISHI Inverter FR-A700 Series
(For CC-Link IE Field Network, the option FR-A7NCE is required.)
Advanced functionality and high-performance inverter
Feature
Performance Enhancement
・High accuracy/fast response speed operation by the vector control can be performed with a general-purpose motor without encoder. Also permits torque limits during torque control and speed control.
・Vector control operation can be performed using a motor with encoder.
Torque control/position control as well as zero speed control, servo lock can be realized with the inverter.
Improved Reliability & Maintainability
・Lengthens the life of cooling fans and capacitors.
・A self-diagnosis function outputs parts life alarm and monitors degrees of deterioration, permitting corrective measures to be taken before problems occur.
・A removable terminal block and cooling fan cassette simplify replacement procedures.
Environment Friendly
・A newly developed, built-in noise filter (EMC filter) reduces noise emissions from the inverter.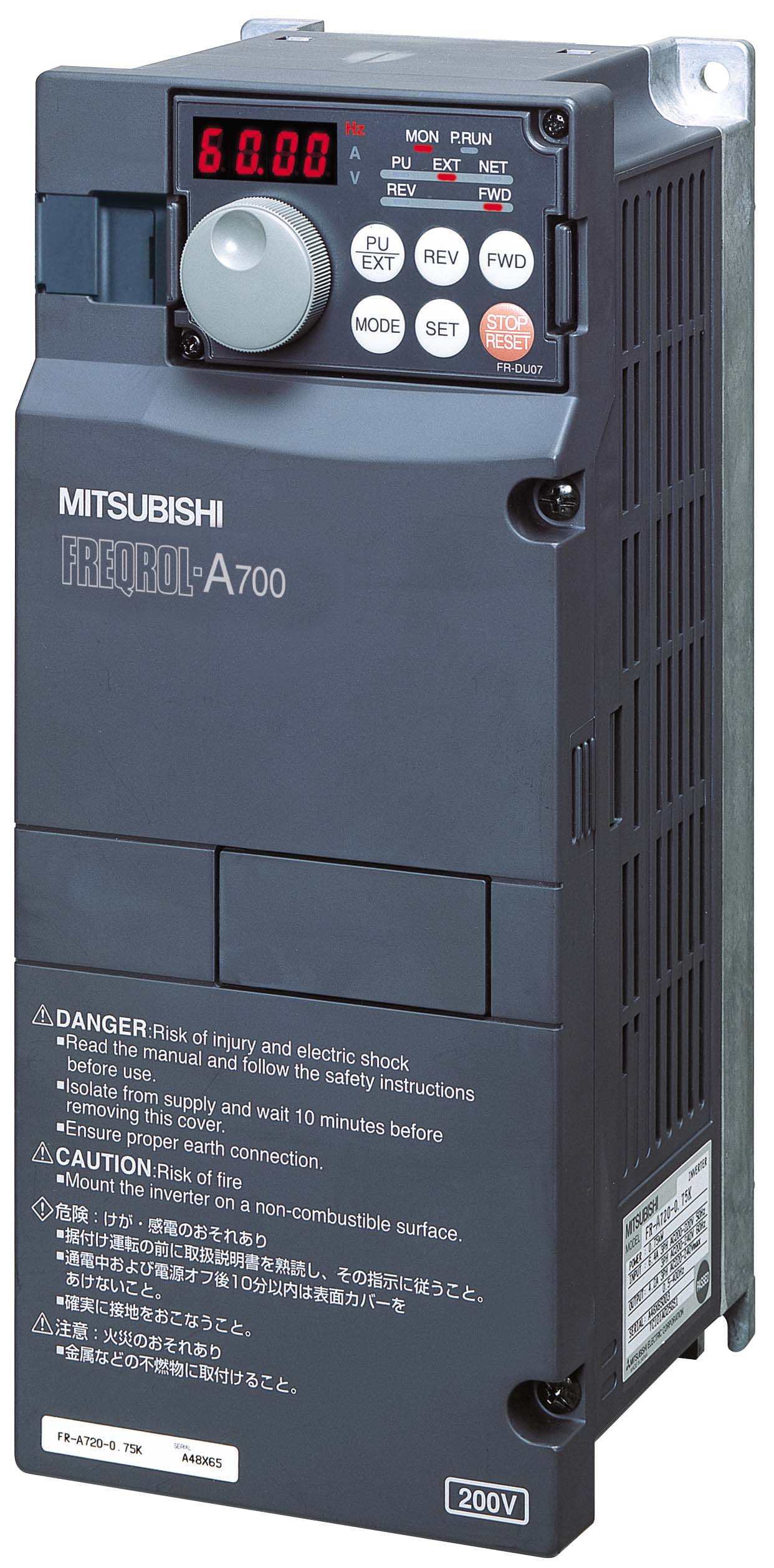 | | |
| --- | --- |
| Station type | |
| External dimensions | |
| Mass | |
| Standard Price | |
Contact
[Korea]

회사명 : 현지법인 한국미쓰비시전기오토메이션㈜
주소 : 서울특별시 강서구 양천로 401 강서한강자이타워 A동 9층
전화번호 : 02-3664-8333
URL:http://kr.mitsubishielectric.com/fa/ko/
Search for a different product