CC-Link partner product information
CC-Link|Slave|Inverter・Servo systems
Fuji Electric Co., Ltd
FRENIC-MEGA Series High performance, multifunction Inverter
FRENIC-MEGA has been developed with unyielding standards of quality and flexibility to meet the demands of both simple and complex industrial applications. Meeting the requirements for various applicaions, achieving lower maintenance, and improved protection to environmental conditions.
Feature
Best in class vector control for general-purpose inverter improves control performance.
Accommodating various applications
(function of detection the abnormal braking transistor, output brake signal for mechanical braking control, customizable control logic through the built-in PLC functionality, ratio operation of the main speed, dancer control function optimized for winding control)
Keypad with USB port allows you to check the information at any time.
The life of limited-life parts (cooling fan, condenser, etc.) is extended. (Designed life is 10 years.)
Installing a dedicated optional card makes the CC-Link communication available.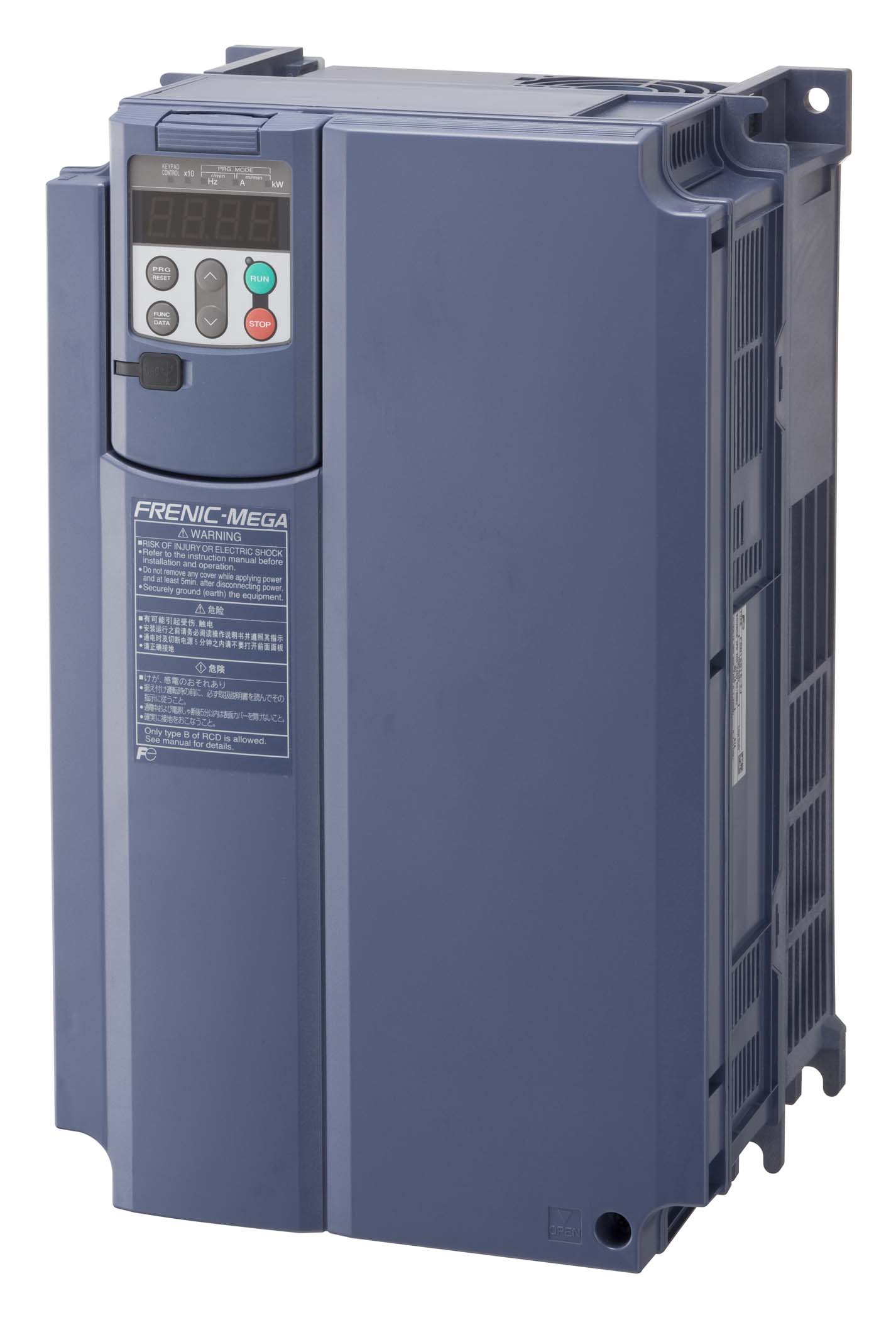 | | |
| --- | --- |
| Station type | Remote device station |
| Number of stations occupied | 1 station |
| Protocol version | Ver.2.0 and Ver.1.10 |
| External dimensions | |
| Mass | |
| Standard Price | Please contact Fuji Electric. |
Contact
[Japan]

name : Fuji Electric. Co., Ltd.
phone : +81-3-5435-7057
URL : http://www.fujielectric.com/
e-mail : drive@fujielectric.com

[China]

name : Fuji Electric (China) Co., Ltd.
phone : +86-21-5496-1177
URL http://www.fujielectric.com.cn/
address : F27, International Corporate City, No.3000 Zhongshan North Road, Shanghai 200063, THE PEOPLE'S REPUBLIC OF CHINA

[Korea]

name : Fuji Electric FA Korea Co., Ltd.
phone : +82-2-780-5011
URL : http://www.fujielectric.co.kr/
e-mail : fcskrwebmaster@fcskr.fujielectic.com
address : 16F Shinsong Bldg., 25-4 Youido-dong, Youngdungpo-gu, Seoul 150-010, KOREA

[Taiwan]

name : Fuji Electric Taiwan Co., Ltd.
phone : +886-2-2511-1820
address : 10F, No.168, Song Jiang Road., Taipei, TAIWAN, R.O.C. PO#10459

[Europe]

name : Fuji Electric Europe GmbH
phone : +49-69-6690290
URL : http://www.fujielectric-europe.com/
e-mail : info_inverter@fujielectric.de
address : Goethering 58, 63067 Offenbach am Main, GERMANY

[US]

name : Fuji Electric Corp. of America
phone : +1-732-560-9410
URL : http://www.americas.fujielectric.com/
address : 50 Northfield Avenue, Edison, NJ 08837, U.S.A.

[India]

name : Fuji Electric India Pvt. Ltd.
phone : +91-22-4010 4870
URL : http://www.fujielectric.co.in/ 
e-mail : info@fein.fujelectric.com
address : 409 410, Meadows, Sahar Plaza, Andheri Kurla Road, J.B. Nagar, Andheri (E) Mumbai 400 059, India

[Other]

東南アジア地区(Southeast Asia & Oceania)
name : Fuji Electric Asia Pacific Pte. Ltd
phone : +65-6533-0014
URL : http://www.sg.fujielectric.com/
e-mail : sales@fap.fujielectric.com
address : 151 Lorong Chuan #2-01A, New Tech Park, SINGAPORE 556741
URL: http://www.fujielectric.co.jp/products/inverter/index.html

Search for a different product