CC-Link partner product information
CC-Link IE Field|Peripheral devices・others|Cables・connectors
Hitachi Metals, Ltd.
Four Pair Cable with Bulk Double Shielded, Compatible with Cat. 5E, NETSTAR-C5E HQ-SAB 4P
A cable structure that takes account of increase in ambient temperature.
Furthermore, as it is a double shielded cable with flame-resistant, oil-resistant sheath, it can be used for network construction under harsh environment, such as inside a factory.
Feature
Four pair cable compatible with TIA-568-C.2 Cat. 5E.
Permanent link with maximum length of 90 m can be used in an environment of ambient temperature of 60 °C.
Double shielded structure with aluminum foil tape and braid.
Sheath is a flame-resistant, oil-resistant type.
Please contact us when using a modular plug.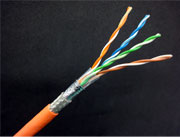 | | |
| --- | --- |
| Station type | |
| Number of stations occupied | |
| CC-Link version | |
| External dimensions | |
| Mass | |
| Standard Price | |
Contact
[Japan]

CC-Link Partner Association
6F Ozone-front Building, 3-15-58,
Ozone, Kita-ku, Nagoya 462-0825, Japan
TEL: 052-919-1588 / FAX: 052-916-8655
e-mail: info@cc-link.org
Search for a different product
CC-Link Partner Association (CLPA)
Members Site