CC-Link partner product information
SLMP|Client/Server|Miscellaneous
MITSUBISHI ELECTRIC CORPORATION
MITSUBISHI DATA LOGGING ANALYZER MELQIC UIU2 Series IU2-3M10/IU2-3M10L
The MELQIC IU2 Series integrates data sampling/analysis/evaluation/saving into a single unit.
Realize product quality improvement with this all-in-one unit.
Feature
Built in functionality allows the MELQIC to Sample/Analyze/Evaluate/Save data by itself.
Scalability through the use of Extension Boards(High-Speed Analog Input, Counter, Pulse Output, CAN Communication, etc)
Various types of data sampling available by measurement instruments and sensors via GPIB, Ethernet, Analog Input, etc.
Device Memory Read/Write of MELSEC-Q/L CPU is possible using available with MC Protocol through an Ethernet connection.
FA specification hardware concept ensures long operation life.
Adapt to diverse operation environments by connecting to external monitor, external strage, Mitsubishi HMIs, etc.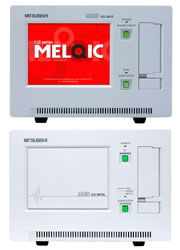 | | |
| --- | --- |
| Station type | |
| External dimensions | 270×198×242[mm](IU2-3M10/IU2-3M10L) |
| Mass | 5.3[kg](IU2-3M10)/5.0[kg](IU2-3M10L) |
| Standard Price | |
Contact
[Korea]

회사명 : 현지법인 한국미쓰비시전기오토메이션㈜
주소 : 서울특별시 강서구 양천로 401 강서한강자이타워 A동 9층
전화번호 : 02-3664-8333
URL:http://kr.mitsubishielectric.com/fa/ko/
Search for a different product