CC-Link partner product information
CC-Link IE Control|Peripheral devices(optical fiber cable)|Wiring products
MITSUBISHI ELECTRIC SYSTEM & SERVICE CO., LTD.
CC-Link IE Controller Network Compatible Optical Media Converter DMC-1000SL-DC
This product can extend the distance between stations of CC-Link IE controller network.
You can use CC-Link IE controller network in a large-scale plant such as ironworks through this product.
Feature
This product increases the greater distance between stations of a CC-Link IE controller network.
Communication between 1000BASE-SX and 1000BASE-LX modules is possible by installing this product between those modules.
Series connection of these products up to four steps is possible by the low-jitter signal with the 3R regeneration format.
This product accepts Link Pass Through.
This product meets UL and CE standards.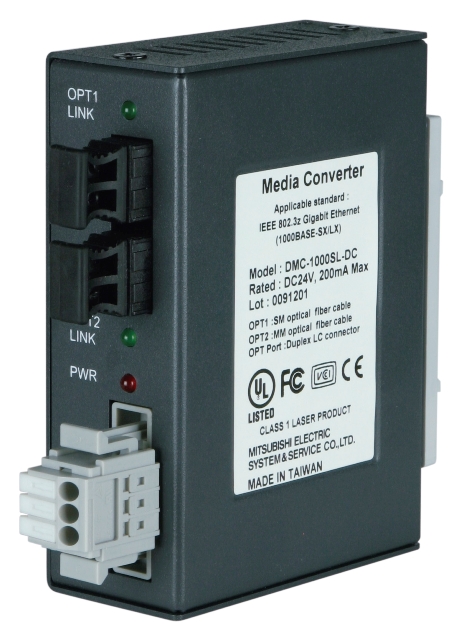 | | |
| --- | --- |
| External dimensions | W31×H95×D90 [mm] |
| Mass | 0.25 [kg] |
| Standard Price | 210,000円 |
Contact
[Japan]

name : MITSUBISHI ELECTRIC SYSTEM & SERVICE CO., LTD.
e-mail : info@melsc.jp

[China]

For inquiries about products and purchase please mail us at following address.
e-mail : osb.webmaster@melsc.jp

[Korea]

For inquiries about products and purchase please mail us at following address.
e-mail : osb.webmaster@melsc.jp

[Taiwan]

For inquiries about products and purchase please mail us at following address.
e-mail : osb.webmaster@melsc.jp

[Europe]

For inquiries about products and purchase please mail us at following address.
e-mail : osb.webmaster@melsc.jp

[US]

For inquiries about products and purchase please mail us at following address.
e-mail : osb.webmaster@melsc.jp

[India]

For inquiries about products and purchase please mail us at following address.
e-mail : osb.webmaster@melsc.jp

[Other]

For inquiries about products and purchase please mail us at following address.
e-mail : osb.webmaster@melsc.jp
Search for a different product