CC-Link partner product information
CC-Link|Slave|Power reception and distribution device
CHUO SEISAKUSHO, LTD.
Rectifier PMD series
PMD series are small multi-functional high quality rectifiers for functional plating used in electrical parts, noble metal plating, and research & development.
Feature
PMD outputs four-type waveforms: rectangular pulse, single phase full wave, triangular pulse, and low ripple direct current.
"9steps, 9channels" sequence control which you can freely set waveform, intermittent time, up-slope time, and down-slope time.
42 sets of PMD can be connected together by using CC-Link ver.2.0.
Voltage and current monitor function.
Cumulative current monitor function.
Monitor function for upper and lower limit values which memories 20 settings of upper and lower limit value and detecting time.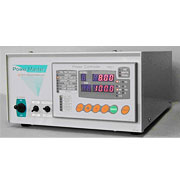 | | |
| --- | --- |
| Station type | Remote device station |
| Number of stations occupied | 1 station (2 stations in ver.1.1.) |
| Protocol version | Ver.2.0 or ver.1.1 |
| External dimensions | Refer to product's URL below |
| Mass | Refer to product's URL below |
| Standard Price | お問合せください |
CC-Link Partner Association (CLPA)
Members Site