CC-Link partner product information
CC-Link|Slave|Inverter・Servo systems
YASKAWA ELECTRIC CORPORATION
YASKAWA AC DRIVE High Performance Vector Control
A cutting-edge, highly efficient AC drive, positioning control without an encoder,capable of unparalleled torque characteristics, and the ability to run both induction motors and synchronous motors.
Feature
The most advanced motor drive technology runs both induction and synchronous motors.
Combining a synchronous motor with A1000 allows for servo lock and positioning control, without the use of a motor encoder.
Combining a synchronous motor with A1000's Energy Saving control allows for even greater efficiency.
Visual programming features in DriveWorksEZ makes it a breeze for the user to customize the drive.
The first terminal block with built-in memory helps save valuable set up time in the event of an application breakdown.
All components are carefully selected for long-life performance. Maintenance Monitors indicate that parts may need replacement.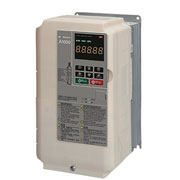 | | |
| --- | --- |
| Station type | Remote Device Station |
| Number of stations occupied | 1 station |
| Protocol version | Ver.1.10 |
| External dimensions | Refer to http://www.e-mechatronics.com/en/ |
| Mass | Refer to http://www.e-mechatronics.com/en/ |
| Standard Price | お問合せください |
Contact
[China]

安川電機(中国)有限公司
Phone: +86-21-5385-2200

[Korea]

YASKAWA ELECTRIC KOREA CORPORATION
phone : +82-2-784-7844

[Taiwan]

台湾安川開発科技股份有限公司
phone : +886-2-2502-5003

[Europe]

YASKAWA EUROPE GmbH
phone :+49-6196-569-300

[US]

YASKAWA AMERICA INC.
phone : +1-847-887-7000

[India]

YASKAWA India Private Limited
phone :+91-80-4244-1900

[Other]

YASKAWA ELECTRIC(SINGAPORE)PTE. LTD.
phone :+65-6282-3003
URL: http://www.e-mechatronics.com/

Product details: http://www.e-mechatronics.com

Search for a different product
CC-Link Partner Association (CLPA)
Members Site