CC-Link partner product information
CC-Link|Slave|Sensor・Encoder
Magnescale Co., Ltd.
Measuring System MG40 Series
Network measurement system for high-speed communication,multi-axis measurements, and data management.
Feature
Its standard CC-Link or Ethernet interface, enables you to process and store remote data via your existing LAN.
Lowers overall costs by reducing the number of peripheral devices and wiring connections while improving reliability.
The system performs error detection on all communication lines to ensure excellent reliability.
Ideal for measurement systems used in large-scale manufacturing facilities.
Configures itself automatically for different models, resolutions, and measurement lengths without any initial setup operation.
Also to provide real-time trend analyses based on actual measurements taken on the production line.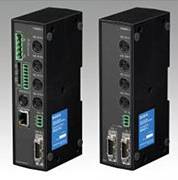 | | |
| --- | --- |
| Station type | Remote device station |
| Number of stations occupied | 4 stations occupied |
| Protocol version | Ver.1.1 |
| External dimensions | W43 × H155 × D69 [mm] |
| Mass | MG41:300g MG42:250g |
| Standard Price | お問い合せ下さい |
Contact
[Japan]

International Sales Depertment TEL +81(0)463-92-7971 FAX +81(0)463-92-7978

[Korea]

International Sales Department TEL +81(0)463-92-7971 FAX +81(0)463-92-7978

[Europe]

Magnescale Europe GmbH TEL +49(0)7153-934-291 FAX +49(0)7153-934-299

[US]

Magnescale Ameriacas Inc. TEL +1(949)727-4017 FAX +1(949)727-4047
URL: http://www.magnescale.com/

Search for a different product