CC-Link partner product information
CC-Link|Slave|Inverter・Servo systems
MITSUBISHI ELECTRIC CORPORATION
FREQROL-E520-KN (3-phase, 200 V Power Model), FREQROL-E540 (3-phase, 400 V Power Model) General-purpose Inverter
An enriched line of compact, powerful inverters.
Feature
The combination of Mitsubishi's unique "general-purpose flux vector control" and slip compensation can generate a torque of 150% at 1 Hz.
The inverter can be installed in the same small area as our FR-E520.
Programs are easy to create because the CC-Link can be operated with X and Y commands from a PLC.
The 3-phase, 400 V power model can be operated with the CC-Link simply by connecting an optional FR-E5NC to a standard FREQROL-E540 series unit.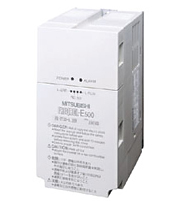 | | |
| --- | --- |
| Station type | Remote device station |
| Number of stations occupied | 1 station |
| Protocol version | |
| External dimensions | |
| Mass | |
| Standard Price | |
Contact
[Korea]

회사명 : 현지법인 한국미쓰비시전기오토메이션㈜
주소 : 서울특별시 강서구 양천로 401 강서한강자이타워 A동 9층
전화번호 : 02-3664-8333
URL:http://kr.mitsubishielectric.com/fa/ko/
Search for a different product