CC-Link partner product information
CC-Link|Device|Process Device
RKC INSTRUMENT INC.
Module Type Multiple-point Temperature Regulator SR Mini HG System
With this regulator, a multiple-point control and monitoring system can be constructed on the CC-Link.
Feature
Up to eight two-channel modules for temperature control can be connected to the regulator.
Three types of modules - heating control, cooling control, and heating/cooling control - are available.
A high-performance type with an accuracy of 0.1 % and a sampling cycle of 0.1 second is also available.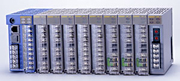 | | |
| --- | --- |
| Station type | Remote device station |
| Number of stations occupied | 4 stations |
| Protocol version | 1.10 |
| External dimensions | |
| Mass | |
| Standard Price | 電源/CPUモジュール ¥46,000CC-Link接続モジュール ¥49,000温度制御モジュール ¥34,000~ |
CSP+File
Contact
[Japan]

RKC INSTRUMENT INC.
Phone: +81-3-3751-9799

[China]

name : Lick Sang International Company Ltd.
phone :+852-2-423-2118
e-mail : info@lsgp.com
other :

[Korea]

name : Korea RKC Technology Inc.
phone : (82-31) 256-7070
e-mail : krkc@chollian.net
other :

[Taiwan]

name : Tai Yu & Co., Ltd
phone : +886-2-2595-3355
e-mail :
other :

[US]

name : RKC Instrument
phone : +1-574-273-6099
e-mail :info@rkcinst-usa.com
other :
URL: http://www.rkcinst.com

Search for a different product
CC-Link Partner Association (CLPA)
Members Site