CC-Link partner product information
CC-Link|Device|Load cell・Indicator
YAMATO SCALE CO., LTD.
EDI-800/910 Indicator/Controller for Load Cells
This is a general-purpose indicator/controller with a wide range of applications, including hopper scales (blending scales).
Feature
The indicator/controller combines high speed, high accuracy, and high resolution backed by an A/D conversion rate of 100 times per second and a resolution of 300,000 counts.
Up to 100 brands can be set and saved, each of which can be easily changed by selecting the corresponding brand number.
Plural scales can be centrally operated by using the CC-Link with less wiring.
Settings and metering results can be easily fetched at high speed with less wiring.
The indicator/controller can communicate with the CC-Link simply by inserting a CC-Link card (option D) into an option slot.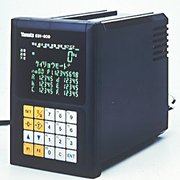 | | |
| --- | --- |
| Station type | Remote device station |
| Number of stations occupied | 4 stations |
| Protocol version | |
| External dimensions | 96(W)×144(H)×178(D) |
| Mass | Approx. 1.1 kg |
| Standard Price | |
Contact
[China]

Shanghai Yamato Scale Co., Ltd.
No. 368 QING DA ROAD HEQING INDUSTRIAL AREA, PUDONG SHANGHAI (CHINA)
Phone: +86-21-58976679

shkasangax@hotmail.com
Mail: tei-s@yamato-scale.co.jp

Search for a different product
CC-Link Partner Association (CLPA)
Members Site