CC-Link partner product information
CC-Link|Device|Load cell・Indicator
A&D Co., Ltd.
Multiple-function weighing indicator AD-4402
A multiple-function weighing indicator. In spite of the low profile body, it has a large display screen and well-established measuring functions. It offers input and output such as for the CC-Link to be compatible with various kinds of devices used in a plant.
Feature
A rate of as high as 100 samples per second enables to sensitively detects changes in weight.
The memory function stores 100 kinds of data registrations for each material and blending code.
Equipped with a blending function. This one unit alone enables blending of two or more materials.
Equipped with a weighing sequence for material feed and discharge. Having functions for monitoring feed and discharge times and for auxiliary feeding.
Equipped with a sequential function to handle charging and mixing.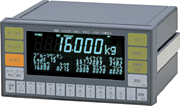 | | |
| --- | --- |
| Station type | Remote device station |
| Number of stations occupied | 4 stations |
| Protocol version | Ver.1.10 |
| External dimensions | 192(W)×96(H)×177(D) mm |
| Mass | Approx. 1.8 kg |
| Standard Price | お問い合わせください |
Contact
[Japan]

name : A&D COMPANY, LIMITED
phone : +81-3-5391-6132
e-mail :
other : http://www.aandd.jp

[China]

name : A&D (GuangZhou) Co.,Ltd.
phone : +86-20-87580935
e-mail :
other :

[Korea]

제조사 ㈜에이앤디

현지법인 한국에이앤디㈜
서울시 영등포구 국제금융로6길 33 8층 822호
Tel:070-4672-5131

대리점 다솜에이앤디
서울시 구로구 구로동 636-62 공구상가 일번지 E동 101호
Tel:02-2676-7466




[Taiwan]

name : A&D SCIENTECH TAIWAN LIMITED
phone : +886-2-2322-4722
e-mail :
other : http://www.aandd.com.tw

[Europe]

name : A&D INSTRUMENTS LIMITED (U.K.)
phone : +44-1235-550420
e-mail :
other : http://www.aandd-eu.net/

[US]

name : A&D ENGINEERING, INC.
phone : +1-408-263-5333
e-mail :
other : http://www.andonline.com/weighing/

[India]

name : A&D INSTRUMENTS INDIA PRIVATE LIMITED
phone : +91-124-471-5555
e-mail :
other : http://www.aandd.in/

[Other]

name : A&D AUSTRALASIA PTY LTD. (AUSTRALIA)
phone : +61-8-8301-8100
e-mail :
other : http://www.andaustralasia.com.au/
URL: http://www.aandd.co.jp

Mail: andgzb@163.com

Search for a different product
CC-Link Partner Association (CLPA)
Members Site