CC-Link partner product information
CC-Link|Device|Analog I/O
HAKARU PLUS CORPORATION
C3 Series Analog I/O Unit
This remote I/O unit comes in two types: eight-point and 16-point with input and output mutually uninsulated.
Feature
No external resistor is required at a current input of 4 to 20 mA.
The standard scanning cycle is 100 ms.
The input/output, the communication unit and the power supply are insulated from one another.
A separate type or fixed type connector is available.
The I/O unit incorporates moving average filter and scaling functions.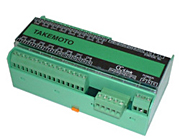 | | |
| --- | --- |
| Station type | Remote device station |
| Number of stations occupied | 4 stations |
| Protocol version | Ver. 1.10 |
| External dimensions | W150×H90×D42 |
| Mass | Approx. 200g |
| Standard Price | 8点ユニット:60,000円,16点ユニット:100,000円 |
CC-Link Partner Association (CLPA)
Members Site