CC-Link partner product information
CC-Link|Device|Analog I/O
HAKARU PLUS CORPORATION
C1 Series Analog I/O Unit
This is a sensor direct input type remote I/O unit for process instrumentation with channel-to-channel insulation.
Feature
This I/O unit combines all functions of an AD unit, a signal converter, and a characteristic converter.
The channel-to-channel withstand voltage is 2000 V AC for one minute.
The temperature range can be freely set (set a temperature range for each input point).
This I/O unit incorporates calculation functions for instrumentation, such as four-point warning and analog calculation, and warning values can be set at the output register of the CC-Link master station.
The pulse signals of a volumetric flowmeter or another unit can be integrated and converted into instantaneous values.
Functions can be set using tool software for personal computers (provided free of charge).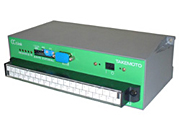 | | |
| --- | --- |
| Station type | Remote device station |
| Number of stations occupied | 4 stations |
| Protocol version | Ver. 1.10 |
| External dimensions | W200×H60×D126mm |
| Mass | Approx. 750g |
| Standard Price | 160,000円(税別) |
CC-Link Partner Association (CLPA)
Members Site