CC-Link partner product information
CC-Link Safety|Slave|Digital I/O
MITSUBISHI ELECTRIC CORPORATION
CC-Link Safety Remote I/O Module Screw Terminal Block Type QS0J65BTB2-12DT
The system of EN954-1 category 3 or category 4 can be configured according to the combination of wiring and parameters. Self-diagnostics can detect failures inside the module to turn off outputs.
Feature
The remote I/O module is authorized by certifications at the highest safety level (IEC61508 SIL3, EN954-1/ISO13849-1 category 4) that can be given to PLCs.
Self-diagnostics detect failures to turn off outputs when failures occur inside the module.
Dark tests (diagnosis of stuck failure of junctions) can diagnose a failure covering external safety devices.
Self-diagnostics include memory diagnosis, circuit block diagnosis, and etc.
The parameter setting screen of the programming tool enables you to make the settings of the safety remote I/O module easily.
The module alone can be reset without turning the power supply off and on when trouble occurs.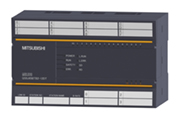 | | |
| --- | --- |
| Station type | Safety remote I/O station |
| Number of stations occupied | 1 station |
| CC-Link version | - |
| External dimensions | 98(H)×163(W)×85(D)[mm] |
| Mass | 0.67kg |
| Standard Price | お問い合わせください |
CC-Link Partner Association (CLPA)
Members Site