CC-Link partner product information
CC-Link/LT|Device|Sensor・Encoder
ANYWIRE CORPORATION
CC-Link/LT Picking Terminal ALT27XB-02G-P
A must-have picking system for sorting and assembling in all fields of industry.
An easy-to-install "reduced wiring Picking Terminal" is here for you to use as if it were the D-I/O of a PLC.
The handy, reduced wiring CC-Link/LT allows you to build up a simple picking system.
Feature
Easy to install
・Make it simple and reduce wiring with the CC-Link/LT.
・The crimp type link connector makes it easy to install.
Enables you to build up a system with a high level of flexibility and extension.
The terminal that incorporates the demands from work sites
・A bright, esthetic LED lamp and display (milky white when it is off).
・A lever switch covered with rubber for rough operation (with a mechanical life of one million switching operations).
・A terminal that allows you to easily define node numbers at a site.
・Can be installed at a higher location as you can tie a cord to the takeout check switch.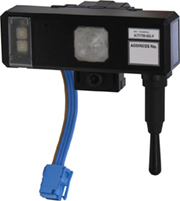 | | |
| --- | --- |
| Station type | Remote I/O station |
| Number of stations occupied | 1 station |
| Protocol version | - |
| External dimensions | - |
| Mass | 0.075 kg |
| Standard Price | |
Contact
[Japan]

Headquarters, West Japan Office
 1 Babazusho, Nagaokakyo-city, Kyoto 617-8550
e-mail : info_e@anywire.jp

[Korea]

현지법인 한국미쓰비시전기오토메이션㈜
서울특별시 강서구 양천로 401 강서한강자이타워 A동 9층
Tel:02-3664-8333
Search for a different product