CC-Link partner product information
CC-Link|Peripheral devices|Wiring products
MITSUBISHI ELECTRIC ENGINEERING COMPANY LIMITED
One-touch Type Conversion Module FA-CB*
The man-hours required for wiring a connector type I/O module for the CC-Link (input module: AJ65SBTCF1-32D or AJ65BTC1-32D, output module: AJ65SBTCF1-32T or AJ65BTC1-32T) to a sensor or load have been drastically reduced.
Feature
Thirty-two input/output signal points can be connected with only one cable. They can be divided into blocks of eight or 16 points for distributed arrangement.
One-touch connectors make the connection and disconnection of sensors, etc. easy. Wires can be crimped without peeling the sheath.
Both two-wire type and three-wire type sensors can be connected to the module.
The module can be mounted with screws or on a DIN rail.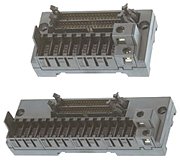 | | |
| --- | --- |
| Protocol version | |
| External dimensions | FA-CB8XY*:90(W)×50(H)×41(D)mm,FA-CB16XY*:148(W)×50(H)×41(D)mm |
| Mass | FA-CB8XY*: 80(g),FA-CB16XY*:114(g) |
| Standard Price | |
Search for a different product
CC-Link Partner Association (CLPA)
Members Site