CC-Link partner product information
CC-Link|Peripheral devices|Cables・connectors
MITSUBISHI ELECTRIC ENGINEERING COMPANY LIMITED
CC-Link-dedicated Cable, Terminated Cable, Terminated Parts Set
A wide variety of CC-Link-dedicated cable, terminated cables, and terminated parts sets are available.
Feature
Both ends of the cable for the CC-Link are terminated, so that it can be connected without any treatment (with a round or Y-shaped crimping terminal, marker tube, insulation tube for shielding, and shrink tube).
With a terminated part set, terminated parts for 50 cables can be prepared at a time.
Six types of communication cables for the CC-Link are available (dedicated cable, high-performance cable, quakeproof cable, low temperature-resistant cable, Ver. 1.10-compatible cable, cable with built-in wire).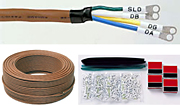 | | |
| --- | --- |
| Type of station or product category | |
| Protocol version | |
| Maximum transmission distance | |
| Outside diameter/External dimensions | |
| Mass | |
| Standard Price | |
Search for a different product
CC-Link Partner Association (CLPA)
Members Site