CC-Link partner product information
CC-Link|Peripheral devices|Cables・connectors
JMACS Japan Co., Ltd.
CCNC-SB110SF-5 CC-Link Version 1.10-compatible flexible cable
Feature
Complex soft copper twisted wires superior in flexibility is used for the conductor.
Lead-free mixed vinyl, which is flexible and oil and heat resistant, is used for the sheath.
Complies with RoHS directive.
The cable can be used for high-speed transmission at 10 Mbps and helps the CC-Link display full performance.
The transmission distance is 50% of that of the standard cable.
(Example: Max. 50m at 10Mbps)
The standard cable length is 100 meters.
However, cables will be cut to your desired length and promptly delivered.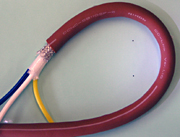 | | |
| --- | --- |
| Protocol version | Ver.1.10 |
| External dimensions | Cable outside diameter approx. 8.0 mm |
| Mass | Approx. 75 (kg/km) |
| Standard Price | Contact for more information. |
Contact
[Japan]

JMACS Japan CO., LTD.
Sales Department
TEL:06-4796-0080  FAX:06-4796-0090
Tokyo Office
TEL:03-3239-5204  FAX:03-3556-1240

[China]

Shanghai Ashiya Trading Ltd.
Phone: +86-21-6360-3742
e-mail:shanghai_ashiya@hotmail.com
other:CLPA Partner URL:http://www.sh-ashiya.com

[Korea]

SHINY ELECTRIC KOREA
phone : +82-32-588-2895
e-mail : top@shinykorea.com
other : CLPA Partner
URL: http://www.jmacs-j.co.jp/

Mail: sales@jmacs-j.co.jp

Search for a different product
CC-Link Partner Association (CLPA)
Members Site