CC-Link partner product information
CC-Link|Peripheral devices|Cables・connectors
DYDEN CORPORATION
CS-110 Cable for Fixed Wiring - Compatible with CC-Link Ver. 1.10 -
This cable for fixed wiring is intended for high-speed transmission on CC-Link Ver. 1.10.
Feature
The cable can be used for high-speed transmission at a maximum baud rate of 10 Mbps.
An outer sheath with outstanding oil resistance and non-flammability is used.
Double shielding provides the cable a high level of noise resistance.
The cable is UL-certified (AWM Style 2464).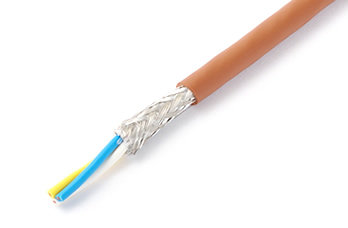 Protocol version
Ver.1.10/2.00
External dimensions
Cable outside diameter
approx. 7.9 (max8) mm
Mass
Standard Price
お問い合わせください
Contact
[Japan]

DYDEN CORPORATION
Factory Automation&Robot Cable Division
Kurume Sales Office +81-942-51-2121
Tokyo Sales Office +81-3-5805-5885
Nagoya Sales Office +81-52-253-9202
Osaka Sales Office +81-6-6229-1983

[China]

name : 伊津政電線電纜(上海)有限公司
phone : (021)3987-3130
e-mail : chenqi@izumasa.co.jp
name:柵華電子科技(上海)有限公司
phone:(8621)3387-2111
e-mail:ma_tanaka@sunwa.co.jp

[Korea]

대리점 해원티앤디㈜
부산광역시 사상구 광장로56번길 48-12
Tel : 051-312-0033



[Taiwan]

name : 攝陽企業股份有限公司 FA事業部
phone : 02-2299-2499
e-mail : http://www.secfa.com.tw/
other :

[Europe]

name : SUN-WA TECHNOS (Europe) GmbH
phone : (+49)-69-1338-9520
e-mail : r_ando@sunwa.co.jp
other :

[US]

name : SUN-WA TECHNOOS AMERICA.INC.
phone : (+1)-847-969-0081
e-mail : inukai@sunwaus.com
other :
URL: http://www.dyden.co.jp

Mail: jyoden@dyden.co.jp

Search for a different product
CC-Link Partner Association (CLPA)
Members Site