CC-Link partner product information
CC-Link|Peripheral devices|Cables・connectors
KURAMO ELECTRIC CO., LTD
FANC-110SBZ-5 0.5 mm2×3 -Link Ver. 1.10-Compatible Cable for Movable Portions
A cable for movable portions compatible with CC-Link Ver. 1.10.
Feature
The cable uses a thinner annealed copper composite twisted wire as the conductor and is available for right-/left-bent portions, cable bearing caterpillars, and movable portions.
For the outer sheath, an oil-resistant, heat-resistant vinyl mixture is used.
The transmission distance is half of the CC-Link Ver. 1.10-compatible standard cable (e.g. FANC-110SBH) (50 meters at 10 Mbps).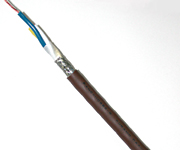 | | |
| --- | --- |
| Protocol version | Ver.1.10 |
| External dimensions | Cable outside diameter approx. 8.0 mm |
| Mass | |
| Standard Price | お問い合わせください |
Contact
[Japan]

KURAMO ELECTRIC CO.,LTD (Tokyo Office)
13-10, Nihonbashi honcho 4-chome, Chuo-ku, Tokyo 103-0023, Japan
Tel: 81-3-5644-7601 Fax: 81-3-5644-8231
E-mail : tokoy1@kuramo.co.jp

[China]

SENSHU ELECTRIC CO,LTD
Phone: +86-21-62780502

[Korea]

삼원액트㈜ 부산본사
주소 : 부산광역시 사상구 대동로 28 (엄궁동)
전화 : 051-320-7777
팩스 : 051-312-2233


URL: http://www.kuramo.co.jp

Mail: eigyo@kuramo.co.jp

Search for a different product
CC-Link Partner Association (CLPA)
Members Site