CC-Link partner product information
CC-Link|Slave|Inverter・Servo systems
Yokogawa Electric Corporation
Intelligent driver DrvP3
Driver dedicated to direct drive motors "DYNASERV" and "LINEARSERV".
Feature
The same operation can drive both a rotating DD motor "DYNASERV" and a linear servo motor "LINEARSERV".
"DYNASERV" is available in a wide range of about 40 models from the resolution of 420 thousand to 4.09 million pulses per rotation and from the torque of 4 to 500 N·m.
The "LINEARSERV" is an all-in-one type linear motor that integrates a thrust generator, a linear encoder and linear motion guide bearings in a unit.
A support tool is available that enables easy DD motor setup, automatic tuning, oscilloscope functions and operation without motor.
Equipped with a variety of functions such as various filters, an operation table capable of positioning operation and m:n scaling functions.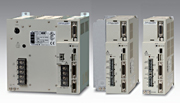 Station type
Remote device station
Number of stations occupied
1 station or 2 stations (select to set)
Protocol version
Ver.1.10
External dimensions
500 W: 60(W)×195(H)×150(D) mm
2 kW: 100(W)×195(H)×200(D) mm
4 kW: 200(W)×195(H)×200(D) mm
Mass
500 W: 1.2 kg 2 kW: 2.5 kg 4 kW: 6.5 kg
Standard Price
お問い合わせください
Contact
[Japan]

Yokogawa Electric Corporation Motion Control Center
phone : +81-422-52-8813
facsimile : +81-422-52-5567
e-mail : ddm-global@cs.jp.yokogawa.com
2-9-32 Naka-cho, Musashino-shi, Tokyo 180-8750, Japan

[China]

Yokogawa Electric Corporation Motion Control Center
phone : +81-422-52-8813
facsimile : +81-422-52-5567
e-mail : ddm-global@cs.jp.yokogawa.com
2-9-32 Naka-cho, Musashino-shi, Tokyo 180-8750, Japan

[Korea]

Yokogawa Electric Corporation Motion Control Center
phone : +81-422-52-8813
facsimile : +81-422-52-5567
e-mail : ddm-global@cs.jp.yokogawa.com
2-9-32 Naka-cho, Musashino-shi, Tokyo 180-8750, Japan

[Taiwan]

Yokogawa Electric Corporation Motion Control Center
phone : +81-422-52-8813
facsimile : +81-422-52-5567
e-mail : ddm-global@cs.jp.yokogawa.com
2-9-32 Naka-cho, Musashino-shi, Tokyo 180-8750, Japan

[Europe]

Yokogawa Electric Corporation Motion Control Center
phone : +81-422-52-8813
facsimile : +81-422-52-5567
e-mail : ddm-global@cs.jp.yokogawa.com
2-9-32 Naka-cho, Musashino-shi, Tokyo 180-8750, Japan

[US]

Yokogawa Electric Corporation Motion Control Center
phone : +81-422-52-8813
facsimile : +81-422-52-5567
e-mail : ddm-global@cs.jp.yokogawa.com
2-9-32 Naka-cho, Musashino-shi, Tokyo 180-8750, Japan

[India]

Yokogawa Electric Corporation Motion Control Center
phone : +81-422-52-8813
facsimile : +81-422-52-5567
e-mail : ddm-global@cs.jp.yokogawa.com
2-9-32 Naka-cho, Musashino-shi, Tokyo 180-8750, Japan

[Other]

Yokogawa Electric Corporation Motion Control Center
phone : +81-422-52-8813
facsimile : +81-422-52-5567
e-mail : ddm-global@cs.jp.yokogawa.com
2-9-32 Naka-cho, Musashino-shi, Tokyo 180-8750, Japan
URL: http://www.yokogawa.com/ddm/

Mail: ddm-global@cs.jp.yokogawa.com

Search for a different product
CC-Link Partner Association (CLPA)
Members Site